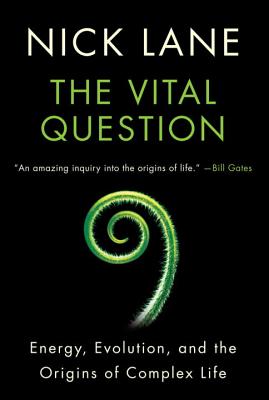 The Vital Question
Energy, Evolution, and the Origins of Complex Life
Paperback

* Individual store prices may vary.
Other Editions of This Title:
Hardcover (7/20/2015)
MP3 CD (3/15/2016)
Description
"One of the deepest, most illuminating books about the history of life to have been published in recent years." —The Economist
The Earth teems with life: in its oceans, forests, skies and cities. Yet there's a black hole at the heart of biology. We do not know why complex life is the way it is, or, for that matter, how life first began. In The Vital Question, award-winning author and biochemist Nick Lane radically reframes evolutionary history, putting forward a solution to conundrums that have puzzled generations of scientists.
For two and a half billion years, from the very origins of life, single-celled organisms such as bacteria evolved without changing their basic form. Then, on just one occasion in four billion years, they made the jump to complexity. All complex life, from mushrooms to man, shares puzzling features, such as sex, which are unknown in bacteria. How and why did this radical transformation happen?
The answer, Lane argues, lies in energy: all life on Earth lives off a voltage with the strength of a lightning bolt. Building on the pillars of evolutionary theory, Lane's hypothesis draws on cutting-edge research into the link between energy and cell biology, in order to deliver a compelling account of evolution from the very origins of life to the emergence of multicellular organisms, while offering deep insights into our own lives and deaths.
Both rigorous and enchanting, The Vital Question provides a solution to life's vital question: why are we as we are, and indeed, why are we here at all?
Praise For The Vital Question: Energy, Evolution, and the Origins of Complex Life…
An amazing inquiry into the origins of life.
— Bill Gates

[Nick Lane] proves an able guide through treacherous scientific terrain. He writes in lucid, accessible prose, and while the science may get dense, the reader will be rewarded with a strikingly unconventional view of biology.
— Tim Requarth - New York Times

If I were a rich man, I would buy up the print run of this book and give a copy to every science undergraduate ahead of his or her first course in cell biology.
— Franklin Harold - Microbe

He is an original researcher and thinker and a passionate and stylish populariser. His theories are ingenious, breathtaking in scope, and challenging in every sense…intellectually what Lane is proposing, if correct, will be as important as the Copernican revolution.
— Peter Forbes - Guardian (UK)

A book of vast scope and ambition, brimming with bold and important ideas…. The arguments are powerful and persuasive…an incredible, epic story.
— Michael Le Page - New Scientist (UK)

In this, his third book about energy and life, [Lane] comes triumphantly close to cracking the secret of why life is the way it is, to a depth that would boggle any ancient philosopher's mind.
— Matt Ridley - The Sunday Times (UK)

A scintillating synthesis of a new theory of life.
— Clive Cookson - Financial Times (UK)

Magnificent…. [The Vital Question] contains as convincing an account of the origins of life as any on offer. …Lane belongs to a small and persuasive cabal that is using studies of the way cells access energy to gain insight into all sorts of questions, from why there are different sexes to why creatures grow old.

— Oliver Morton - The Economist Intelligent Life
W. W. Norton & Company, 9780393352979, 368pp.
Publication Date: June 21, 2016
About the Author
Nick Lane is a biochemist in the Department of Genetics, Evolution and Environment at University College London, and leads the UCL Origins of Life Program. He was awarded the 2015 Biochemical Society Award for his outstanding contribution to the molecular life sciences. He is the author of Life Ascending: The Ten Great Inventions of Evolution, which won the 2010 Royal Society Prize for Science Books, as well as Power, Sex, Suicide: Mitochondria and the Meaning of Life and Oxygen: The Molecule that Made the World.