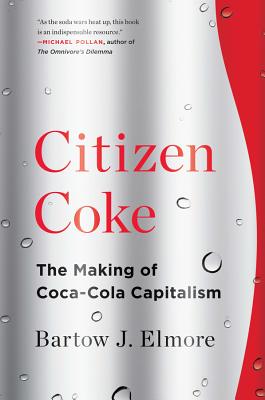 Citizen Coke (Paperback)
The Making of Coca-Cola Capitalism
W. W. Norton & Company, 9780393353341, 432pp.
Publication Date: December 6, 2016
Other Editions of This Title:
Hardcover (11/3/2014)
Compact Disc (11/3/2014)
MP3 CD (11/3/2014)
Compact Disc (11/3/2014)
* Individual store prices may vary.
Description
"Citizen Coke demostrate[s] a complete lack of understanding about…the Coca-Cola system—past and present." —Ted Ryan, the Coca-Cola Company
By examining "the real thing" ingredient by ingredient, this brilliant history shows how Coke used a strategy of outsourcing and leveraged free public resources, market muscle, and lobbying power to build a global empire on the sale of sugary water. Coke became a giant in a world of abundance but is now embattled in a world of scarcity, its products straining global resources and fueling crises in public health.
About the Author
Bartow J. Elmore grew up in Coke country: Atlanta, Georgia. An environmental and business historian, he teaches at Ohio State University.
Praise For Citizen Coke: The Making of Coca-Cola Capitalism…
[Elmore offers] unaccustomed perspectives on a company whose leading product is a household name around the globe…I doubt the Coca-Cola Co. will much like it.
— Marc Levinson

What Elmore does best is analyze how Coke takes advantage of global public works and government interventions to boost its place in world markets…Citizen Coke began as a dissertation, and its points are lucid and logically presented; the language is accessible, and punchy chapter endings propel the story.

— Beth Macy

As the soda wars heat up, this book is an indispensable resource.
— Michael Pollan

Coca-Cola is one of the most powerful economic institutions of our time, but its social and ecological impacts remain understudied. Now, in the hands of a talented young historian, corporate capitalism gets the attention it deserves in a careful dissection of the material underpinnings of the world's most valuable brand. Citizen Coke will cause you to drink less and think more.

— Ted Steinberg, author of Gotham Unbound: The Ecological History of Greater New York

Citizen Coke is a brilliant analysis of Coke's empire in ecological, economic, and social terms. It allows us to see the contours of an economy based on partnerships between governments and corporations like Coca-Cola. It makes us conscious of the giant ecological footprint of the Real Thing, which impacts the real lives of real people. If you want a deeper understanding of our world today, read Citizen Coke.

— Vandana Shiva, author of Stolen Harvest: The Hijacking of the Global Food Supply

A fascinating, thought-provoking approach to Coca-Cola history through the drink's primary ingredients—water, sugar, high-fructose corn syrup, coca leaf, caffeine—and the glass, plastic, and aluminum that contain them.
— Mark Pendergrast, author of For God, Country & Coca-Cola