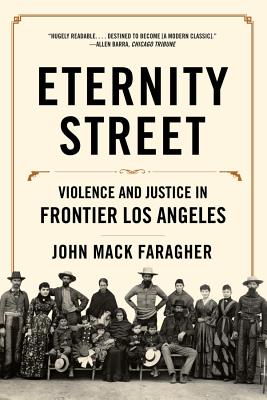 Eternity Street
Violence and Justice in Frontier Los Angeles
Paperback

* Individual store prices may vary.
Other Editions of This Title:
Hardcover (1/11/2016)
Description
"[A] fascinating account of the twisted threads of murder, ethnic violence and mob justice in 19th century Southern California." —Jill Leovy, author of Ghettoside: A History of Murder in America, in the Los Angeles Times
Los Angeles is a city founded on blood. Once a small Mexican pueblo teeming with Californios, Indians, and Americans, all armed with Bowie knives and Colt revolvers, it was among the most murderous locales in the Californian frontier. In Eternity Street: Violence and Justice in Frontier Los Angeles, "a vivid, disturbing portrait of early Los Angeles" (Publishers Weekly), John Mack Faragher weaves a riveting narrative of murder and mayhem, featuring a cast of colorful characters vying for their piece of the city. These include a newspaper editor advocating for lynch laws to enact a crude manner of racial justice and a mob of Latinos preparing to ransack a county jail and murder a Texan outlaw. In this "groundbreaking" (True West) look at American history, Faragher shows us how the City of Angels went from a lawless outpost to the sprawling metropolis it is today.
Praise For Eternity Street: Violence and Justice in Frontier Los Angeles…
Every page of Eternity Street is hardcore, bloody, scabrous, fascinating…This aptly titled, instant classic now revives the ragged and angry old ghosts, permanently…This is one of the most enjoyable books you will ever read.

— Tony Mostrom

Groundbreaking…[I]f you read Professor Faragher's Eternity Street you will be enlightened to discover the violent story of the West—real and imagined—today's and yesterday's—begins and ends in Los Angeles.

— Stuart Rosebrook

Eye-opening…As you read, you may regret that There Will Be Blood was already taken, but Faragher's book is the ideal prequel to Paul Thomas Anderson's 2007 epic about SoCal's formative years in the early twentieth century.

— Tom Carson

Hugely readable…Faragher is one of the great living American historians, and his area of expertise is the American frontier. His 1992 biography, Daniel Boone: The Life and Legend of an American Pioneer, is a modern classic, and Eternity Street is destined to become one.

— Allen Barra

An achievement…Eternity Street shades the history of Los Angeles in a way no other book has…[A] testament to [Faragher's] capacity as a historian and a writer…I recommend it to natives of any place.

— Emmett Rensin

Faragher's stories evoke Cormac McCarthy. In a grim but riveting narrative, languid preconceptions of Edenic California's birth give way to murder and mayhem, carnage and cruelty. Eternity Street describes human beings at their worst, but this is American history at its best.

— Elizabeth Fenn, Pulitzer Prize–winning author of Encounters at the Heart of the World

Gripping and authoritative, this is a masterwork of scholarship and literary grace. Faragher's dark portrait of L.A. pulls no punches and asks us to consider what grim DNA yet lurks in the City of Angels.
— William Deverell, University of Southern California, author of To Bind Up the Nation's Wounds

In Eternity Street, John Mack Faragher has unearthed a blood-soaked history of nineteenth-century Los Angeles that blows away 'Wild West' fantasies. Faragher's masterwork should be read by all who wish to understand more about the violence that has shaped the American past.

— Stephen Aron, UCLA, author of The American West: A Very Short Introduction

Through chilling anecdote and skilled storytelling, John Mack Faragher explores the experience of frontier violence for L.A.'s Mexican, Anglo, Indian, Black, and Chinese residents. This may just be the true origin story for L.A. noir.
— Amy Greenberg, Penn State University, author of A Wicked War

Eternity Street will be an enduring landmark. Faragher's stories are not happy ones, but they are ones we need to remember if we hope to embrace the West's full history and cope with the legacy that continues to bedevil us.

— Elliott West, University of Arkansas, author of The Last Indian War
W. W. Norton & Company, 9780393353655, 624pp.
Publication Date: February 28, 2017
About the Author
John Mack Faragher is the Howard R. Lamar Professor Emeritus of History and American Studies at Yale. He is the author of many books on American history, including a biography of Daniel Boone that received a Los Angeles Times Book Prize.