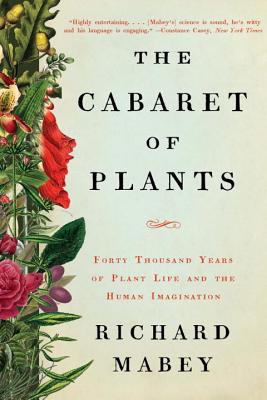 The Cabaret of Plants
Forty Thousand Years of Plant Life and the Human Imagination
Paperback

* Individual store prices may vary.
Other Editions of This Title:
MP3 CD (4/29/2016)
Hardcover (1/11/2016)
Compact Disc (4/29/2016)
Hardcover (10/22/2015)
Paperback (10/6/2016)
Paperback, Chinese (8/3/2016)
Description
"Highly entertaining…Mabey gets us to look at life from the plants' point of view." —Constance Casey, New York Times
The Cabaret of Plants is a masterful, globe-trotting exploration of the relationship between humans and the kingdom of plants by the renowned naturalist Richard Mabey.
A rich, sweeping, and wonderfully readable work of botanical history, The Cabaret of Plants explores dozens of plant species that for millennia have challenged our imaginations, awoken our wonder, and upturned our ideas about history, science, beauty, and belief. Going back to the beginnings of human history, Mabey shows how flowers, trees, and plants have been central to human experience not just as sources of food and medicine but as objects of worship, actors in creation myths, and symbols of war and peace, life and death.
Writing in a celebrated style that the Economist calls "delightful and casually learned," Mabey takes readers from the Himalayas to Madagascar to the Amazon to our own backyards. He ranges through the work of writers, artists, and scientists such as da Vinci, Keats, Darwin, and van Gogh and across nearly 40,000 years of human history: Ice Age images of plant life in ancient cave art and the earliest representations of the Garden of Eden; Newton's apple and gravity, Priestley's sprig of mint and photosynthesis, and Wordsworth's daffodils; the history of cultivated plants such as maize, ginseng, and cotton; and the ways the sturdy oak became the symbol of British nationhood and the giant sequoia came to epitomize the spirit of America.
Complemented by dozens of full-color illustrations, The Cabaret of Plants is the magnum opus of a great naturalist and an extraordinary exploration of the deeply interwined history of humans and the natural world.
Praise For The Cabaret of Plants: Forty Thousand Years of Plant Life and the Human Imagination…
Mabey's book lets us see plants as subjects rather than objects, arrayed in all their colors, performing miraculous tricks, dances and acrobatics…[His] lyrical prose enlivens the history of botanical understanding…[and] many readers will reel out of Mr. Mabey's stimulating cabaret with their view of the plant world—the living world we all share—enriched beyond measure.
— Jenny Uglow

A powerful shock to those of us who thought that plants can't think…Interesting and entertaining.
— Amy Stewart

A gorgeous and engaging book…There are so many delights to be found in Cabaret—from the hunt for the elusive Amazonian moonflower, to the wonder of self-rejuvenating yews that defy efforts to determine their age, to the sprouting of an extinct Judean palm from a 2,000-year-old excavated seed—and Mabey keeps us enthralled from first to last.

— Jennifer Bort Yacovissi

A delightfully accessible work of scholarship…Mabey's sensitive approach not only succeeds in giving these incredibly vital beings their just place in the story of life. It reminds us that, as we stare in the maw of large-scale environmental change, we can learn the right lessons from our relationship with plants and draw inspiration from their incredible resilience.

The greatest writer on nature alive…[Mabey] fuses botany, art and literature into a prose which is interrogative, pungent, and urgently alive.

Wonderfully thought-provoking…Of all his 30-plus books, this is surely among his finest, an eclectic world-roaming collection of stories…lacing color, intimacy and emotional texture around the scaffold of hard facts.

This is the nature-writing equivalent of fine dining—rich, full of different tastes, lasting and satisfying. A treat not to miss…. Go, buy it, and feast. Botany rocks!
— Dominic Couzens

Written with a typically Mabeyish mixture of wit, knowledge and intellectual power, The Cabaret of Plants…left me challenged and delighted—and seeing the world a little differently.

— Robert Macfarlane
W. W. Norton & Company, 9780393353860, 384pp.
Publication Date: April 11, 2017
About the Author
Richard Mabey is the author of Food for Free, Flora Britannica, and Weeds: In Defense of Nature's Most Unloved Plants, among other books. A Fellow of the Royal Society of Literature, he has narrated popular BBC television and radio series and written for the Guardian and Granta. He lives in Norfolk, England.