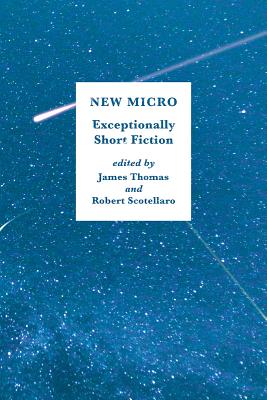 New Micro (Paperback)
Exceptionally Short Fiction
W. W. Norton & Company, 9780393354706, 288pp.
Publication Date: August 28, 2018
* Individual store prices may vary.
Description
A new collection of very short stories selected by Flash Fiction editor James Thomas and Robert Scotellaro.
All of the stories in this book are exceptionally short, revealing themselves in no more than 300 words. With a foreword by Robert Shapard and an afterword by Christopher Merrill, this book brings you fresh approaches to an exacting form that demands precision, a species of brevity that is surprisingly expansive. Writers say the pieces are hard to compose, but readers say they are easy to appreciate, a pleasure to envision, a wonder to watch life spun out and painted in small places. Real and surreal, lyrical and prosaic, here are 135 stories by 89 authors, certain to make you think.
About the Author
James Thomas has received a Stegner Fellowship, a Michener Fellowship, and two NEA grants. He lives in Xenia, Ohio.

Robert Scotellaro is the author of Bad Motel and Measuring the Distance. He lives in San Francisco.
Praise For New Micro: Exceptionally Short Fiction…
Reading these wonderful tiny fictions is like stealing food from the refrigerator before, or after, dinner. A sublime luxury.
— Frederick Barthelme

These micro fictions violate the laws of geophysics by compressing whole lives / whole worlds / whole heartbreaks into something like diamonds: bright, riven, reflective, edged, wonderful, and hard enough to cut through glass.
— Pam Houston, author of Contents May Have Shifted

New Micro's quick, bright stories are, like our lives, as brief as lightning in the blinding dark. They offer us essential truth without the inessential facts.

— John Dufresne, author of Flash! Writing the Very Short Story