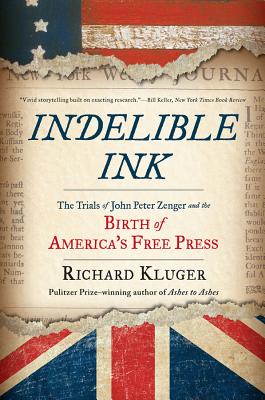 Indelible Ink (Paperback)
The Trials of John Peter Zenger and the Birth of Americas Free Press
W. W. Norton & Company, 9780393354850, 384pp.
Publication Date: October 24, 2017
* Individual store prices may vary.
Description
The liberty of expression has been fixed in the firmament of our social values since our nation's beginning--the United States was the first government to legalize free speech and a free press as fundamental rights. But when the British began colonizing the New World, any words, true or false, thought to disparage the government were judged as criminally subversive.
So when in 1733 a small newspaper, the New-York Weekly Journal, printed scathing articles assailing the new British governor, William Cosby, as corrupt and abusive, colonial New York was scandalized. The paper's publisher, John Peter Zenger -- only a front man for Cosby's adversaries, New York Supreme Court Chief Justice Lewis Morris and the shrewd attorney James Alexander -- became the endeavor's courageous fall guy when Cosby brought the full force of his high office down upon it. Zenger faced a jury on August 4, 1735, in a proceeding matched in importance during the colonial period only by the Salem Witch Trials.
In Indelible Ink, acclaimed social historian Richard Kluger re-creates in rich detail this dramatic clash of powerful antagonists that marked the beginning of press freedom in America. Here is an enduring lesson that resounds to this day on the vital importance of free public expression as the underpinning of democracy.