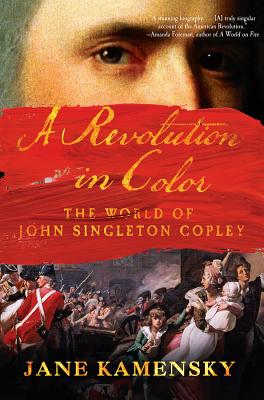 A Revolution in Color (Paperback)
The World of John Singleton Copley
W. W. Norton & Company, 9780393354867, 544pp.
Publication Date: October 3, 2017
Other Editions of This Title:
Hardcover (10/4/2016)
* Individual store prices may vary.
Description
"A stunning biography…[A] truly singular account of the American Revolution." —Amanda Foreman, author of A World on Fire
Through an intimate narrative of the life of painter John Singleton Copley, award-winning historian Jane Kamensky reveals the world of the American Revolution, rife with divided loyalties and tangled sympathies.
Famed today for his portraits of patriot leaders like Samuel Adams and Paul Revere, Copley is celebrated as one of America's founding artists. But, married to the daughter of a tea merchant and seeking artistic approval from abroad, he could not sever his own ties with Great Britain. Rather, ambition took him to London just as the war began. His view from abroad as rich and fascinating as his harrowing experiences of patriotism in Boston, Copley's refusal to choose sides cost him dearly. Yet to this day, his towering artistic legacy remains shared by America and Britain alike.
About the Author
Jane Kamensky is professor of history at Harvard University and the Pforzheimer Director of the Schlesinger Library at the Radcliffe Institute for Advanced Study. Her many books include A Revolution in Color and The Exchange Artist, a finalist for the George Washington Book Prize.
Praise For A Revolution in Color: The World of John Singleton Copley…
Vivid and detailed…a drama in motion.
— Kathleen DuVal

With a singular focus on Copley and a more vibrant prose style, Kamensky probes deeply into such matters as family relations, local politics and the psychological costs of failing to realize one's ambitions.
— Virginia DeJohn Anderson

Far from a born partisan, Copley could have gone either way. Kamensky's great accomplishment is to leave readers pulled by different audiences, demands, and political allegiances right along with him.
— Caitlin Fitz

[I]ntelligent and substantive.
— Wendy Smith

Kamensky wields a keen putty knife in a restoration that strives—rather than for objectivity—for acuity and honesty. Kamensky has that in spades.
— Peter Lewis

Vivid, intimate, and richly detailed, Jane Kamensky's biography of John Singleton Copley illuminates the deeply intertwined worlds of America and England at the moment of their violent divorce. The career of the great painter from Boston provides a wonderfully fresh and surprising perspective on the American Revolution, on the scope of artistic ambition, and on the high costs of divided loyalty.
— Stephen Greenblatt, author of The Swerve

The greatest American artist of the eighteenth century, John Singleton Copley, preferred life in Britain, escaping from the bitter civil war that we call the American Revolution. In this brilliantly insightful and lucidly written biography, Jane Kamensky reveals the age of revolution in fresh new tones as complex and compelling as the interplay of light and shade in the finest Copley painting.
— Alan Taylor, author of American Revolutions

Beautifully written and elegant, A Revolution in Color gives us a vibrant and new perspective on the conflict between America and Great Britain, a conflict the ambitious John Singleton Copley embodied. Jane Kamensky enriches our understanding of this vital time in world history.

— Annette Gordon-Reed, author of "Most Blessed of the Patriarchs"

A pleasure to read from first page to last, Jane Kamensky's exploration of the artist life, work, and tumultuous times of John Singleton Copley is itself a masterpiece. Like all excellent portraitists, Kamensky probes deeply into the character of her subject, as deft with the small, revealing detail as she is with the sweeping strokes of landscape and setting. Both gripping narrative history and insightful art criticism, A Revolution in Color is a genre-busting tour de force.

— Geraldine Brooks, author of The Secret Chord

A memorable journey into the transatlantic world in the age of revolution through a close study of the greatest colonial American artist. Kamensky, a historian with an art historian's sensibility, provides a brilliant survey of John Singleton Copley's life, work, and subjects, vivified by a detailed examination of letters, diaries, and official records, many previously untapped, to involve the reader in the emotional and sensory experience of living in those tumultuous times.
— Jules David Prown, Yale University