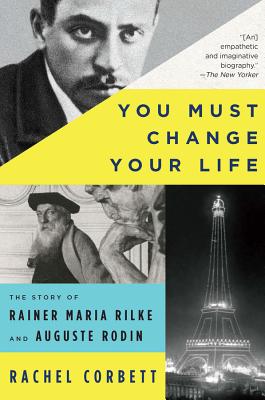 You Must Change Your Life (Paperback)
The Story of Rainer Maria Rilke and Auguste Rodin
W. W. Norton & Company, 9780393354928, 320pp.
Publication Date: October 10, 2017
Other Editions of This Title:
Hardcover (9/6/2016)
* Individual store prices may vary.
Description
Winner of the 2016 Marfield Prize
In 1902, Rainer Maria Rilke—then a struggling poet in Germany—went to Paris to research and write a short book about the sculptor Auguste Rodin. The two were almost polar opposites: Rilke in his twenties, delicate and unknown; Rodin in his sixties, carnal and revered. Yet they fell into an instantaneous friendship. Transporting readers to early twentieth-century Paris, Rachel Corbett's
You Must Change Your Life
is a vibrant portrait of Rilke and Rodin and their circle, revealing how deeply Rodin's ideas about art and creativity influenced Rilke's classic
Letters to a Young Poet.
About the Author
Rachel Corbett is the editor in chief of Modern Painters. Her writing has appeared in The New Yorker, the New York Times, the Art Newspaper, New York magazine, and others. She lives in Brooklyn, New York.
Praise For You Must Change Your Life: The Story of Rainer Maria Rilke and Auguste Rodin…
This empathetic and imaginative biography, deeply researched, is anchored by the friendship between [Rilke and Rodin].

Rachel Corbett has written an elegant and moving account of what was a cultural turning point, seen through the eyes of two very different artists.
— Luke Barr, author of Provence, 1970

Rachel Corbett, as any fine artist, has produced a work of great effect, and leaves a lasting and indelible mark on the reader.

In honeyed, knowing prose, Rachel Corbett twines two great serpents of art: the suppleness of Rodin's malleable flesh and eroticism and Rilke's endless lyrical rivers. New portals of aesthetic intonations open; invisible elements come into sight.
— Jerry Saltz, senior art critic, New York Magazine

Spectacular. . . . A layered and lyrical inquiry into the personal, interpersonal, and cultural forces behind and around Rainer Maria Rilke's iconic Letters to a Young Poet.

— Maria Popova

Takes readers deep into the literary and art worlds of the beginning of the 20th century. . . . A must-read.
— Alanna Martinez

Much more than the story of Rilke as a young man serving as the personal secretary and confidante to Rodin. Laced with first-and second-hand accounts of the artists and their milieu, You Must Change Your Life is an examination of the gritty how and why of artistic creation, as well as an acknowledgement of the costs of such a life.

— Sarah Roffino

A riveting narrative. . . . Corbett writes sharp prose that gets to the point.
— Daniel Larkin

Charming and funny, Rachel Corbett renders turn-of-the-twentieth-century Paris in all its gritty glory, illustrating how the same place that saw 'Baudelaire charge through the streets waving a gun and Balzac nearly starve to death' could foster a magical artistic relationship like this one.
— Ada Calhoun. author of St. Marks Is Dead