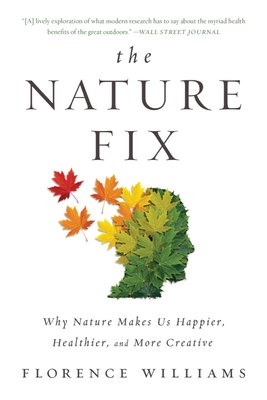 The Nature Fix (Paperback)
Why Nature Makes Us Happier, Healthier, and More Creative
W. W. Norton & Company, 9780393355574, 304pp.
Publication Date: February 20, 2018
Other Editions of This Title:
Compact Disc (2/7/2017)
Hardcover (2/7/2017)
Paperback, Korean (10/1/2018)
* Individual store prices may vary.
Description
"Highly informative and remarkably entertaining." —Elle
From forest trails in Korea, to islands in Finland, to eucalyptus groves in California, Florence Williams investigates the science behind nature's positive effects on the brain. Delving into brand-new research, she uncovers the powers of the natural world to improve health, promote reflection and innovation, and strengthen our relationships. As our modern lives shift dramatically indoors, these ideas—and the answers they yield—are more urgent than ever.
About the Author
Florence Williams is a journalist and contributing editor to Outside magazine. Her work has appeared in the New York Times, the New York Times Magazine, and National Geographic among others. Her first book, Breasts: A Natural and Unnatural History, was a New York Times Notable Book of 2012 and the winner of the Los Angeles Times Book Prize in Science and Technology. Williams lives in Washington, DC.
Praise For The Nature Fix: Why Nature Makes Us Happier, Healthier, and More Creative…
[Williams] presents the benefits of spending time outdoors… entertainingly but with enough scientific detail to satisfy the expert.

Engaging.

Williams's findings are eminently reassuring.

[A] scientific tour de Mother Earth…The Nature Fix offers a cross-continental rumination on nature's feel-good effects in a world that's increasingly concrete-centric.


A veteran journalist, Williams flexes her conditioned reporting muscles.… Her fast-paced book takes readers across three continents as she trails all kinds of experts, from phycologists to foresters.

A thoughtful, refreshing book with a simple but powerful message.

[A] powerful environmental call to arms.

The Nature Fix is a beautifully written, thoroughly enjoyable exposition of a major principle of human life now supported by evidence in biology, psychology, and medicine.

— Edward O. Wilson, University Research Professor Emeritus, Harvard University

I'm no tree hugger, but The Nature Fix made me want to run outside and embrace the nearest oak. Not for the tree's sake but mine. Florence Williams makes a compelling, and elegant, case that nature is not only beautiful but also good for us. If Thoreau were steeped in modern neuroscience and possessed an endearingly self-deprecating sense of humor, the result would be the book you hold in your hands.

— Eric Weiner, New York Times best-selling author of The Geography of Genius

Florence Williams, keen observer, deft writer, creates a fascinating mosaic here. What are the costs—to us!—of humanity's increasing disconnection from nature? What are the likely benefits—to us!—of retaining that threatened connection?… Large.
— David Quammen, New York Times best-selling author of The Tangled Tree