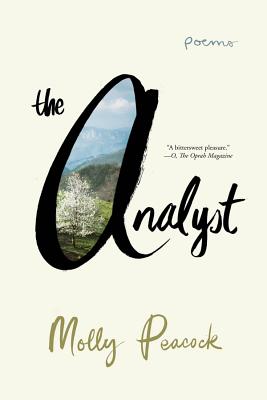 The Analyst (Paperback)
Poems
W. W. Norton & Company, 9780393355826, 128pp.
Publication Date: July 17, 2018
Other Editions of This Title:
Hardcover (1/3/2017)
* Individual store prices may vary.
Description
"Whatever the subject, rich music follows the tap of Molly Peacock's baton."—Washington Post
When a psychoanalyst became a painter after surviving a stroke, her longtime patient, distinguished and beloved poet Molly Peacock, took up a unique task. Weaving an invigorating tapestry of images, Peacock's poetry bears witness to a profound role reversal as its author looks back on a forty-year relationship with her one-time analyst, now friend.
About the Author
As president of the Poetry Society of America, Molly Peacock was one of the creators of New York's Poetry in Motion program, and she is the series editor of The Best Canadian Poetry in English. She is based in New York and Toronto.
Praise For The Analyst: Poems…
A new, visceral, twenty-first century 'in memoriam' of ambiguous loss in which Peacock brilliantly tells the story of a decades-long patient-therapist relationship that now reverses and continues to evolve.

This relationship [between Peacock and her psychoanalyst] is not just described and honored but is also used as a metaphor for poetry itself.… With Peacock the human body heals two by two.

A compelling examination of how much we depend on others, especially when it comes to 'seeing' ourselves through someone else's eyes.
— Philip Schultz

A remarkable account of the restorative power of creativity.… [Peacock's] poetry's orderly grace can seem paradoxical when she's describing intense, chaotic emotions. But that lyrical craft is exactly what makes these poems resonate.

Peacock's manuscript constitutes an instructional manual, crash course, or abstract painting of the complex world. It gives the reader an intimate view of how two people see each other through the various crises of their lives, how the poet and the painter balance alongside as they look into their conscious lives and past the edges of their consciousness to their dreams, memories, emotions, inspirations, and aspirations.

The Analyst… has its share of impossible emotions. But it is also a book about possible healing.… In previous books, Peacock has shown us how the repetitions of poetic form can contain the ruptures of violence. Here, she shows us how they can also enact processes of growth and change; of hard-won, incremental revision.


Anyone who has undergone therapy will appreciate Peacock's insights into the process, and everyone can gain from her exploration of human connection and creativity.

Using lush language and imagery, [Peacock's] poems move between free verse and rhyme and sometimes adapt traditional forms, so that each poem is formally distinctive.… A rich and important selection.

Frank and tender.

With gusto, compassion, and wit matched by consummate craft and remarkable tonal range, Peacock revels in the liberties of language. The stroke of the 'intimate witness' (the poet's beloved analyst) spurs a series of lyric meditations on the forces that shape and reshape identity. With the singular achievement of her seventh collection, Peacock transforms her art.
— Phillis Levin