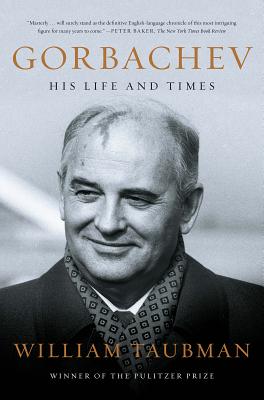 Gorbachev
His Life and Times
Paperback

* Individual store prices may vary.
Other Editions of This Title:
Digital Audiobook (9/4/2017)
Hardcover (9/5/2017)
Description
A National Book Critics Circle Award Finalist



"Essential reading for the twenty-first [century]." —Radhika Jones, The New York Times Book Review
In the first comprehensive biography of Mikhail Gorbachev, William Taubman shows how a peasant boy clambered to the top of a system designed to keep people like him down, found common ground with America's arch-conservative president Ronald Reagan, and permitted the USSR and its East European empire to break apart without using force to preserve them. Drawing on interviews with Gorbachev himself, transcripts and documents from the Russian archives, and interviews with Kremlin aides and adversaries, Taubman's intensely personal portrait extends to Gorbachev's remarkable marriage to a woman he deeply loved. Nuanced and poignant, yet unsparing and honest, this sweeping account has all the amplitude of a great Russian novel.
Praise For Gorbachev: His Life and Times…
A masterpiece of narrative scholarship.
— Strobe Talbott - The New York Review of Books

A meticulously researched, clear-eyed volume that will undoubtedly stand for years as the definitive account of the Soviet Union's last ruler.
— Max Boot - Wall Street Journal

Masterful.… Taubman intimately portrays an epic tragic hero of Sophoclean proportion. Gorbachev is likely to be a subject of interest to future historians for centuries, perhaps millennia.
— Forbes

A superbly researched story of a politician of such decency as to seem, in our more pessimistic, darker moment, almost beyond imagining.
— The New Yorker

William Taubman's extraordinary new biography, Gorbachev: His Life and Times, is fly-on-the-wall history.… A riveting page-turner.… His book is anything but a solemn academic tome. It's gripping.

— Mark Katkov - NPR

Superb.… Enlightening.… With great skill [Taubman] lays bare the evolution that was so important to [Gorbachev's] later actions.
— David E. Hoffman - The Washington Post

[Taubman] applies a Tolstoyan lens to Russia's recent history and displays particular sensitivity in his assessment of a life that would prove richer than politics.
— The Economist

I have had the privilege of knowing many of the great men and women who brought momentous change to the last part of the twentieth century. My friend Mikhail Gorbachev was outstanding among them. So this biography, especially with its attention to his early formative years, is a great addition to our understanding of a key historical period.
— George P. Shultz

William Taubman has now done for Gorbachev what he had previously done for Khrushchev, giving us the full life deeply grounded in the Soviet and Russian archives, here with the added benefit of Gorbachev's complete cooperation. Perhaps a hundred years from now, when our perspective on Russia's role in the world has further clarified, another biography will be needed. For now, however, Gorbachev is the closest thing to the final word that history allows."

— Joseph Ellis, author of Founding Brothers: The Revolutionary Generation

Remarkably, the two most memorable leaders of the Soviet Union in the last half of its existence now have the same superb biographer. William Taubman's Gorbachev, like his Khrushchev, is an extraordinary achievement, full of new information, filled with shrewd judgments, a two-in-a-row triumph in the writing of great lives.

— John Lewis Gaddis, Pulitzer Prize–winning author of George F. Kennan: An American Life
W. W. Norton & Company, 9780393356205, 880pp.
Publication Date: September 11, 2018
About the Author
William Taubman is the Bertrand Snell Professor of Political Science Emeritus at Amherst College. His biography, Khrushchev: The Man and His Era, won the Pulitzer Prize and the National Book Critics Circle Award. He lives in Amherst, Massachusetts.