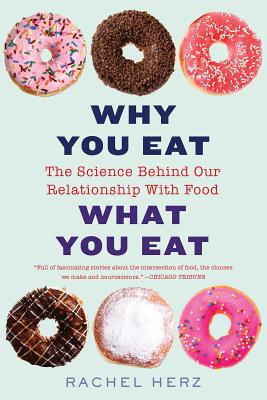 Why You Eat What You Eat
The Science Behind Our Relationship with Food
Paperback

* Individual store prices may vary.
Description
"In this factual feast, neuroscientist Rachel Herz probes humanity's fiendishly complex relationship with food." —Nature
How is personality correlated with preference for sweet or bitter foods? What genres of music best enhance the taste of red wine? With clear and compelling explanations of the latest research, Rachel Herz explores these questions and more in this lively book. Why You Eat What You Eat untangles the sensory, psychological, and physiological factors behind our eating habits, pointing us to a happier and healthier way of engaging with our meals.
Praise For Why You Eat What You Eat: The Science Behind Our Relationship with Food…
Rachel Herz deftly and charmingly explains the latest science on the mysteries and paradoxes of [eating, an] eternally fascinating human pastime.
— Steven Pinker

Fascinating and provocative.…Herz lays out a smorgasbord of food-centric findings that are, by turns, familiar, instructive, and surprising.
— Portland Press Herald

Explains the myriad of factors that guide and affect our eating habits. You'll learn about cravings, surprising triggers, startling facts, and more.
— Bustle

Readers will take away fun facts along with useful tips to curb cravings and eat smarter.
— Real Simple

Fascinating and accessibly written.…Cover to cover, Why You Eat What You Eat offers new and interesting advice to encourage…a loving relationship with food.

— Providence Journal

Like an all-you-can-eat buffet, Herz's book will satiate any reader.
— Rhode Island Monthly

Herz takes the reader on an eyebrow-raising journey through myth-busting experiments and intriguing moments in history, revealing unexpected study results and counterintuitive factoids along the way.
— Future Science

One of Herz's major strengths is her skill at creating catchy phrasing to convey complicated scientific theories and experiments.
— Kirkus Reviews

Herz… delivers on her promise to explain human eating habits in this research-based work on neurogastronomy.… Herz's book illuminates Western eating habits and offers some ways that both individuals and wider society might change in order to make Westerners eat more sanely.
— Publishers Weekly

A fun and compelling book that touches upon several subjects. Recommended for a variety of readers including those interested in food science, marketing, nutrition, and psychology.
— Library Journal
W. W. Norton & Company, 9780393356601, 368pp.
Publication Date: January 8, 2019
About the Author
Rachel Herz is a neuroscientist specializing in perception and emotion. She teaches at Brown University and Boston College, and is a professional consultant. The author of The Scent of Desire and That's Disgusting, she lives in Rhode Island.