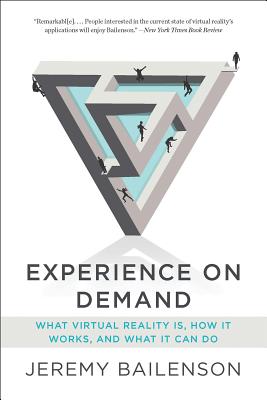 Experience on Demand (Paperback)
What Virtual Reality Is, How It Works, and What It Can Do
W. W. Norton & Company, 9780393356854, 304pp.
Publication Date: February 12, 2019
Other Editions of This Title:
Hardcover (1/30/2018)
MP3 CD (1/30/2018)
Compact Disc (1/30/2018)
Compact Disc (1/30/2018)
* Individual store prices may vary.
Description
"If you want to understand the most immersive new communications medium to come along since cinema… I'd suggest starting with Mr. Bailenson's [book]." —Wall Street Journal
Virtual reality is able to effectively blur the line between reality and illusion, granting us access to any experience imaginable. These experiences, ones that the brain is convinced are real, will soon be available everywhere. In Experience on Demand, Jeremy Bailenson draws upon two decades spent researching the psychological effects of VR to help readers understand its upsides and possible downsides. He offers expert guidelines for interacting with VR, and describes the profound ways this technology can be put to use to hone our performance, help us recover from trauma, improve our learning, and even enhance our empathic and imaginative capacities so that we treat others and ourselves better.
About the Author
Jeremy Bailenson is professor of communication at Stanford University and founding director of the Virtual Human Interaction Lab. His writing has appeared in the Washington Post, Slate, and the San Francisco Chronicle. He lives in Redwood City, California.
Praise For Experience on Demand: What Virtual Reality Is, How It Works, and What It Can Do…
An accessible introduction [and] a cogent primer to the potential and pitfalls of VR.

Excellent.… A fascinating journey.

Few people alive know as much about VR as Jeremy Bailenson. For decades he's been researching how VR affects humans. Read this before you enter this new world.
— Kevin Kelly, founding editor of Wired and author of The Inevitable

[Bailenson's] enthusiasm is contagious, and he explains complex issues to an audience broader than fellow scientists, providing a real vision of our possibly VR-infused future.

Virtual reality is changing the way athletes train. This book is a must-read for anyone who wants to understand and hone performance through VR.
— Joe Montana, Hall of Fame quarterback

Jeremy Bailenson's work is unflinching and brave. He helps us see more of our vulnerabilities and our potential than ever before. This book describes the edge of human self-knowledge, and a precipice of human foibles to avoid.
— Jaron Lanier, VR pioneer and author of You Are Not a Gadget

Bailenson provides a clarifying framework for a necessary conversation about what it will mean to 'be there' in the twenty-first century. Read this to calibrate the ethical and moral choices ahead.
— Sherry Turkle, professor of the social studies of science and technology, MIT, and author of Reclaiming Conversation

As one of VR's pioneers, Jeremy Bailenson sheds light on how it works, its benefits, and how it will impact us in the future.
— Young Sohn, president and chief strategy officer, Samsung Electronics

Nobody has thought longer or deeper than Jeremy Bailenson about how VR will affect society. He takes us on an entertaining tour of what it can do, from giving children thrilling educational experiences to teaching the public about climate change to enhancing the storytelling powers of filmmakers and journalists.
— Laurene Powell Jobs, president of Emerson Collective

What is virtual reality? Everyone is talking about it but very few have really indulged in artistic and well-crafted simulations. Jeremy Bailenson takes you beyond the hype and into the profound and empathic ways VR is enhancing every facet of life… from how we communicate to how we are entertained. A must-read for anyone who is curious about the world we live in.
— Jane Rosenthal, producer and cofounder of Tribeca Enterprises