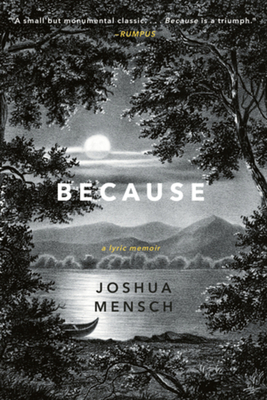 Because (Paperback)
A Lyric Memoir
W. W. Norton & Company, 9780393357646, 144pp.
Publication Date: February 25, 2020
Other Editions of This Title:
Hardcover (5/15/2018)
* Individual store prices may vary.
Description
"A small but monumental classic.… Because is a triumph." —Rumpus
A "disturbing, memorably and superbly handled book-length narrative poem" (Stephanie Burt), Because offers a compassionate and wrenching account of the author's experience of childhood sexual abuse. It tells the story of Don, the charming, enigmatic director of a youth wilderness camp who befriends, and preys on, the young boys in his care. Unfolding through a series of jewel-like scenes, Because renders the shifting landscapes of childhood memory with a swift and convincing music, building a tale that is powerful, complex, and heartbreaking.
About the Author
Joshua Mensch is a poet, visual artist, and a founding editor of the literary journal B O D Y. He grew up in Nova Scotia, Canada, and lives and works in Prague, Czech Republic.
Praise For Because: A Lyric Memoir…
Because is beautiful and heartbreaking. It takes us on a journey of no return, it overwhelms us with the music that brings forth tragedy, and with a story that is horrifying and full of music.

— Ilya Kaminsky, author of Deaf Republic

Bold and unflinching.… This narrative damns and saves. It must be read.
— Rachel Morgan

Harrowing and affecting.… By way of vivid and precise poetic narratives—driven by the word 'because'—the book is a testament to vulnerability, heartbreak and healing.
— Erin Balser

A coming-of-age plus comeuppance, the story has a natural momentum, yet is enhanced by a unique presentation.
— John Domini

An almost unimaginably harrowing memoir in poems.

A courageous attempt at the very difficult form of the narrative in verse.… The narrative allows the author to bear witness to a grim tale of abuse that is still, alas, timely.

Riveting, beautiful, and quietly devastating. Mensch is a gifted and unflinching poet, and he has one hell of a story to tell.
— Patrick Phillips, author of Blood at the Root and Elegy for a Broken Machine

[Because] is a rare and remarkable text. Although it deals unswervingly with abuse, violations of trust, and the deeply damaging effect of both of these, it is also literary, powerful, and consoling.… A deeply achieved record of human truth, earned at cost and beautifully expressed.

— Eavan Boland, author of A Poet's Dublin

It in no way diminishes the power of physical wounds to recognize that psychic wounding represents its own palpable trauma, increased perhaps because the individual life of such pain is invisible and because the public knowledge of such pain too often exists in silence. 'Because,' in fact, is the word in Joshua Mensch's 'lyric memoir,' an extended meditation on and examination of childhood sexual abuse. This deeply personal and profound poem may be the work of memory but its force is built from within our moment—a force enhanced through a structure of anaphora and a percussive length of line that insists on being heard.
— Stanley Plumly, author of Against Sunset

Unrelentingly obsessive… an achievement of sustained attention and imagination.
— Michael Collier, author of Dark Wild Realm