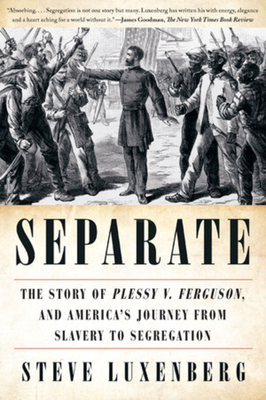 Separate
The Story of Plessy v. Ferguson, and America's Journey from Slavery to Segregation
Paperback

* Individual store prices may vary.
Other Editions of This Title:
Digital Audiobook (2/11/2019)
Hardcover (2/12/2019)
Description
A New York Times Editors' Choice

Winner of the J. Anthony Lukas Award

Longlisted for the Cundill History Prize



"Absorbing.… Segregation is not one story but many. Luxenberg has written his with energy, elegance and a heart aching for a world without it." —James Goodman, The New York Times Book Review
Separate is a myth-shattering narrative of one of the most consequential Supreme Court cases of the nineteenth century, Plessy v. Ferguson. The 1896 ruling embraced racial segregation, and its reverberations are still felt today. Drawing on letters, diaries, and archival collections, Steve Luxenberg reveals the origins of racial separation and its pernicious grip on American life. He tells the story through the lives of the people caught up in the case: Louis Martinet, who led the resisters from the mixed-race community of French New Orleans; Albion Tourgée, a best-selling author and the country's best-known white advocate for civil rights; Justice Henry Billings Brown, from antislavery New England, whose majority ruling sanctioned separation; Justice John Harlan, the Southerner from a slaveholding family whose singular dissent cemented his reputation as a steadfast voice for justice. Sweeping, swiftly paced, and richly detailed, Separate is an urgently needed exploration of our nation's most devastating divide.
Praise For Separate: The Story of Plessy v. Ferguson, and America's Journey from Slavery to Segregation…
Dazzlingly well-reported.… [A]n eye-opening journey through some of the darkest passages and haunting corridors of American history.
— Terence Samuel - NPR

Deeply researched, and it wears its learning lightly.
— Louis Menand - The New Yorker

A striking view of Reconstruction and of the tragic stillbirth of freedom in that era.
— Charles S. Dameron - Wall Street Journal

Separate vividly tells the story of how far our country had to go to repudiate its commitments to a racial double standard.

— David Cole - The Nation

Luxenberg gives a three-dimensional and almost novelistic treatment to the players involved, drawing on diaries, letters and archival research.
— Joumana Khatib - The New York Times

In Separate, the context and aftermath of the court's ruling in Plessy v. Ferguson are woven into a nuanced history of America's struggles in the 19th century as a civil war was fought, slavery ended and a new, complex racial politics haltingly took form.

— The Economist

Informative, engaging, exquisitely written, sensitive to individuals' frailties, flaws, and inconsistencies, by turns inspiring and dispiriting, Separate is a splendid work of history.

— Glenn C. Altschuler - Florida Courier

In documenting this country's fateful journey from slavery through thwarted Reconstruction to segregation, Luxenberg paints on a broad canvas, elegantly narrating several captivating and scrupulously researched stories that converge in Plessy v. Ferguson.… [F]ascinating.

— Steve Nathans-Kelly - New York Journal of Books

[Luxenberg] is a fine writer… Separate reminds us that our history is not simply a narrative of greater and greater freedom.

— Eric Foner - The Washington Post

An ambitious and deeply researched nonfiction account.… [Luxenberg] draws on letters, diaries and archival collections to bring the true story to life.
— Suzanne Van Atten - Atlanta Journal-Constitution
W. W. Norton & Company, 9780393357691, 624pp.
Publication Date: February 4, 2020
About the Author
Steve Luxenberg is the author of Separate: The Story of Plessy v. Ferguson, and America's Journey from Slavery to Segregation and the critically acclaimed Annie's Ghosts: A Journey into a Family Secret. During his thirty years as a Washington Post senior editor, he has overseen reporting that has earned numerous national honors, including two Pulitzer Prizes.