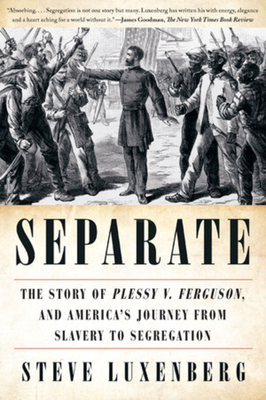 Separate (Paperback)
The Story of Plessy V. Ferguson, and America's Journey from Slavery to Segregation
W. W. Norton & Company, 9780393357691, 624pp.
Publication Date: February 4, 2020
Other Editions of This Title:
Hardcover (2/12/2019)
* Individual store prices may vary.
Description
Plessy v. Ferguson is one of the most compelling cases of the nineteenth century: its outcome embraced and protected segregation, and its reverberations are still felt into the twenty-first. Award-winning author Steve Luxenberg draws from letters, diaries, and archival collections to tell the story through the eyes of the people caught up in the case. Sweeping, swiftly paced, and richly detailed, Separate provides an urgently needed exploration of our nation's most devastating divide.
"Dazzlingly well- reported. . . . An eye- opening journey through some of the darkest passages and haunting corridors of American history." -- Terence Samuel, NPR
"Reminds us that our history is not simply a narrative of greater and greater freedom." -- Eric Foner, Washington Post
"A fresh way to tell the story. . . . Separate is deeply researched, and it wears its learning lightly." -- Louis Menand, The New Yorker