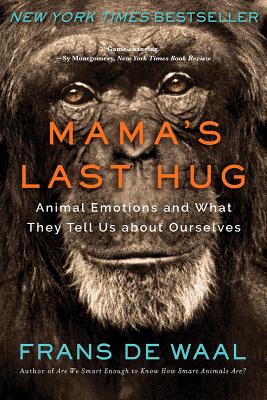 Mama's Last Hug
Animal Emotions and What They Tell Us about Ourselves
Paperback

* Individual store prices may vary.
Other Editions of This Title:
Hardcover (3/12/2019)
Library Binding, Large Print (7/10/2019)
Description
A New York Times Bestseller and winner of the PEN / E. O. Wilson Literary Science Writing Award



"Game-changing." —Sy Montgomery, New York Times Book Review
Mama's Last Hug is a fascinating exploration of the rich emotional lives of animals, beginning with Mama, a chimpanzee matriarch who formed a deep bond with biologist Jan van Hooff. Her story and others like it—from dogs "adopting" the injuries of their companions, to rats helping fellow rats in distress, to elephants revisiting the bones of their loved ones—show that humans are not the only species with the capacity for love, hate, fear, shame, guilt, joy, disgust, and empathy. Frans de Waal opens our hearts and minds to the many ways in which humans and other animals are connected.
Praise For Mama's Last Hug: Animal Emotions and What They Tell Us about Ourselves…
A captivating and big-hearted book, full of compassion and brimming with insights about the lives of animals, including human ones.
— Yuval Noah Harari, New York Times best-selling author of Sapiens

Through colorful stories and riveting prose, de Waal firmly puts to rest the stubborn notion that humans alone in the animal kingdom experience a broad array of emotions.
— Barbara J. King

De Waal's eye-opening observations argue for better treatment and greater appreciation of animals, even as he ensures that you'll never look at them—or yourself—the same way again.

An original thinker, [de Waal] seems to invite us to his front-row seats, sharing the popcorn as he gets us up to speed on the plot of how life works, through deeply affecting stories of primates and other animals, all dramas with great lessons for our own species.
— Vicki Constantine Croke

De Waal's conversational writing is at times moving, often funny and almost always eye-opening.… It's hard to walk away from Mama's Last Hug without a deeper understanding of our fellow animals and our own emotions.

— Erin Wayman

There is nothing sentimental about de Waal's position.… All the things he has learned about animals have come from observation. He is a brilliant observer, and is often amazed by what he sees.
— Michael Bond

I doubt that I've ever read a book as good as Mama's Last Hug, because it presents in irrefutable scientific detail the very important facts that animals do have these emotions as well as the other mental features we once attributed only to people. Not only is [the book] exceedingly important, it's also fun to read, a real page-turner. I can't say enough good things about it except it's utterly splendid.

— Elizabeth Marshall Thomas

Before I realized Frans de Waal's connection to Mama's actual last hug, I sent the online video link to a large group of scientists saying, 'I believe it is possible to view this interaction and be changed forever.' Likewise, I believe that anyone reading this book will be changed forever. De Waal has spent so many decades watching intently and thinking deeply that he sees a planet that is deeper and more beautiful than almost anyone realizes. In these pages, you can acquire and share his beautiful, shockingly insightful view of life on Earth.
— Carl Safina, author of Beyond Worlds: What Animals Think and Feel

"After you've read Mama's Last Hug it becomes obvious that animals have emotions. Learn how they resemble us in many ways.

— Temple Grandin, author of Animals Make Us Human and Animals in Translation

Frans de Waal is one of the most influential primatologists to ever walk the earth, changing the way we think of human nature by exploring its continuity with other species. He does this again in the wonderful Mama's Last Hug, an examination of the continuum between emotion in humans and other animals. This subject is rife with groundless speculation, ideology, and badly misplaced folk intuition, and de Waal ably navigates it with deep insight, showing the ways in which our emotional lives are shared with other primates. This is an important book, wise and accessible.

— Robert Sapolsky, author of Behave: The Biology of Humans at Our Best and Worst
W. W. Norton & Company, 9780393357837, 352pp.
Publication Date: March 10, 2020
About the Author
Frans de Waal, author of Mama's Last Hug and Are We Smart Enough to Know How Smart Animals Are?, is a professor of psychology at Emory University and director of the Living Links Center at the Yerkes National Primate Research Center. He lives in Atlanta, Georgia.