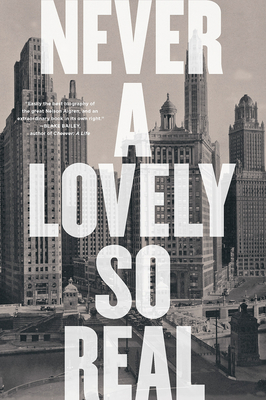 Never a Lovely So Real
The Life and Work of Nelson Algren
Paperback

* Individual store prices may vary.
Other Editions of This Title:
Compact Disc (7/2/2019)
Hardcover (4/16/2019)
Description
"Easily the best biography of the great Nelson Algren, and an extraordinary book in its own right." —Blake Bailey, author of Cheever: A Life
For a time, Nelson Algren was America's most famous author, lauded by the likes of Richard Wright and Ernest Hemingway. But at the height of his career, he abandoned fiction and fell into obscurity. Colin Asher's sublime biography of Algren unravels the enigma of his disappearance, explores the richness of his novels and nonfiction writing, and explains how a rash creative decision may have led his enemies to denounce him to the FBI during the Red Scare. Asher tells Algren's story in rich, novelistic detail, including his long-term affair with Simone de Beauvoir and the emotional breakdown that nearly cost him his life. Drawing from interviews, archival correspondence, and Algren's 886-page FBI file, Never a Lovely So Real portrays Algren as a dramatic iconoclast and reclaims him as a towering literary figure.
Praise For Never a Lovely So Real: The Life and Work of Nelson Algren…
A deeply researched, moving account of a great writer's life.
— Russell Banks

Brings [Algren] to life with breathless intensity.
— Deirdre Bair, National Book Award–winning author of Samuel Beckett: A Biography

A work of love and prodigious research and, as such, deserves to be honored.
— Vivian Gornick

Scrupulously researched.… One can only hope that efforts of remembrance like Never a Lovely So Real will help to return the author's star to the literary firmament where it belongs.

— Woody Haut

Absorbing.… [Asher] scrupulously attempts to separate facts from myths… as he explores how a writer who produced prose-poetry of such a high order could now be largely forgotten.
— Susan Jacoby

In the course of making the case for Algren's neglected work, Asher does something else nearly as valuable, which is to reframe… the life: a life not just entertainingly full of incident but also inspiring and exemplary.
— Jonathan Dee

Never a Lovely So Real has heft and heart, and it displays the sort of respect and loyalty to its subject that the novelist paid to the struggling, real-life people he put into his books.

— Thomas Mallon

A magnificently thorough and sensitive study of one of the great authors in twentieth century America. Nelson Algren, the instinctive rebel, troubled personality, object of liberal and conservative attacks in the Cold War era, rose above it all in his often brilliantly poetic prose. Colin Asher's engrossing biography explores why Algren spoke for those who could not speak for themselves and demonstrates why we desperately need a voice like his today.
— Paul Buhle, retired senior lecturer, Brown University; author of Marxism in the United States; and coeditor of Tender Comrades

Asher's book is devotional and beautifully written, seven years in the making, its sentences capturing the very same mix of lyricism and street, hard truths and sentimentality that made Algren himself so special.… It is in some important way the first biography of Algren to be written, because, although it's technically the fourth or fifth, it's the first really long one, and it's the first to let you walk in Algren's shoes.
— Dan Simon

Asher is an insightful literary critic, a charming hagiographer, and, occasionally, a reluctant scold.… [Never a Lovely So Real] succeeds in filling the reader with the desire to read Algren's books.

— Christian Lorentzen
W. W. Norton & Company, 9780393357899, 560pp.
Publication Date: April 28, 2020
About the Author
Colin Asher is an award-winning writer whose work has been featured in the Believer, the Los Angeles Review of Books, the Boston Globe, and the San Francisco Chronicle. An instructor at CUNY, he was a 2015/2016 Fellow at the Leon Levy Center for Biography.