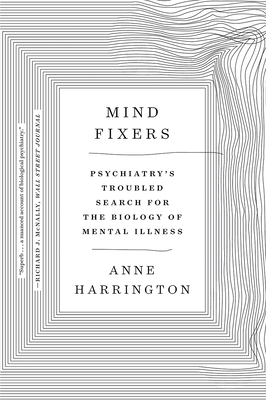 Mind Fixers
Psychiatry's Troubled Search for the Biology of Mental Illness
Paperback

* Individual store prices may vary.
Other Editions of This Title:
Hardcover (4/16/2019)
Compact Disc (5/12/2019)
MP3 CD (5/12/2019)
Description
"Superb… a nuanced account of biological psychiatry." —Richard J. McNally
In Mind Fixers, "the preeminent historian of neuroscience" (Science magazine) Anne Harrington explores psychiatry's repeatedly frustrated efforts to understand mental disorder. She shows that psychiatry's waxing and waning theories have been shaped not just by developments in the clinic and lab, but also by a surprising range of social factors. Mind Fixers recounts the past and present struggle to make mental illness a biological problem in order to lay the groundwork for creating a better future.
Praise For Mind Fixers: Psychiatry's Troubled Search for the Biology of Mental Illness…
By charting our fluctuating beliefs about our own minds, [Anne] Harrington effectively tells a story about the twentieth century itself.
— Jerome Groopman

Anne Harrington masterfully chronicles the hopes—and the hype—surrounding psychiatry's much-heralded 'biological revolution' in this penetrating, capacious, and immensely engaging account.
— Elizabeth Lunbeck, author of The Americanization of Narcissism

A compelling story of the ongoing mission to understand and treat our troubled minds.
— Nina MacLaughlin

Enthralling.… Harrington takes us on a fascinating tour of the up-and-down history of pharmaceutical treatments for psychiatric disorders.
— Alison Abbott

When it comes to doctoring the body, you have to go back to the 19th century to find a time when the theories were baseless… and the treatments often harmful.… For doctoring the mind, as Anne Harrington's fine history of psychiatry shows, that point is much more recent.

Harrington's grasp of this story and the clarity with which, with limited moralism, she delivers a tale about the 'big picture' of psychiatry and neurology is emblematic of the historian's craft.
— Stephen T. Casper

A lucid and compelling analysis of the travails of psychiatry as it has attempted to ground its understanding of mental illness in biology.
— Steven E. Hyman, director of the Stanley Center for Psychiatric Research

The story Harrington tells is one of push-and-pull, back-and-forth.… Intricate and winding, though her prose remains clear and crisp.
— Jennifer Szalai

Disagreement is central to psychiatry, a fact that resonates throughout Anne Harrington's masterful history.
— Philip Alcabes

A tale of promising roads that turned out to be dead ends, of treatments that seemed miraculous in their day but barbaric in retrospect, of public-health policies that were born in hope but destined for disaster.… Of value to historians of medicine.
— Gary Greenberg
W. W. Norton & Company, 9780393358063, 384pp.
Publication Date: June 16, 2020
About the Author
Anne Harrington is the Franklin L. Ford Professor of the History of Science and faculty dean of Pforzheimer House at Harvard University. She is the author of four books, including Mind Fixers and The Cure Within. She lives in Cambridge, Massachusetts.