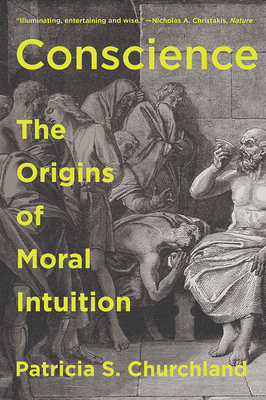 Conscience
The Origins of Moral Intuition
Paperback

* Individual store prices may vary.
Other Editions of This Title:
Hardcover (6/4/2019)
Description
"Illuminating, entertaining and wise." —Nicholas A. Christakis, Nature
Conscience, a finalist for the PEN / E. O. Wilson Literary Science Writing Award, explores why all social groups have moral systems and how these systems are formed. Distinguished professor Patricia S. Churchland brings together an understanding of the influences of neuroscience, genetics, and physical environment to elucidate how our brains are configured to form bonds and care for children, while also investigating why amoral psychopaths can arise. Churchland then turns to philosophy to understand how morality is transmitted through generations, and why it has become a foundation of all societies. Conscience joins ideas rarely put into dialogue and brings light to a subject that speaks to the meaning of being human.
Praise For Conscience: The Origins of Moral Intuition…
A powerful argument for a neuroscientific approach to morality.
— V. S. Ramachandran, author of The Tell-Tale Brain

A jewel among books about human nature.
— Ann Graybiel, investigator at the McGovern Institute for Brain Research at MIT

Informative, accessible, and engaging.
— Glenn C. Altschuler, PhD - Psychology Today

[A] provocative look at how each of us tells right from wrong.
— Gemma Tarlach - Discover

No one blends philosophy and neuroscience as well as Patricia S. Churchland.
— Frans de Waal, author of Mama's Last Hug

Moral philosophers, zealots, and ideologues have been arguing for their versions of 'good' and 'bad' for millennia; now it's time for Patricia S. Churchland to remind us that morality doesn't come from a stone tablet or a logical axiom, but is rather one of nature's inventions enabling our greatest superpower: sociality. It's messy, useful, and very human?like thumbs.
— Blaise Agüera y Arcas, distinguished scientist, Google AI

In Conscience, Patricia S. Churchland pulls back the curtains and takes us behind the scenes to show where our morals come from. Packed with the latest neuroscience research, the surprising answer turns out to be our very own brains. A must-read for anyone with a conscience.

— Gregory Berns, author of How Dogs Love Us

Lucid, stimulating accounts of recent discoveries in neuroscience and psychology.
— Sissela Bok - American Scholar

A thoughtful, accessible, and enlightening book.
— Kirkus Reviews

Patricia S. Churchland has done it again! She wisely guides readers on a lively romp through recent research in neuroscience, genetics, evolution, psychology, psychiatry, anthropology, economics, politics, and philosophy in order to reach a more complete understanding of how and why we can get along despite our deep disagreements about what is wrong or right. This fun and fascinating journey shows why morality cannot be fully understood without the wide variety of perspectives and of scientific information that this tour de force provides.
— Walter Sinnott-Armstrong, author of Think Again
W. W. Norton & Company, 9780393358469, 240pp.
Publication Date: November 24, 2020
About the Author
Patricia Churchland is the author of Touching a Nerve: Our Brains, Our Selves. She is professor emerita of philosophy at the University of California, San Diego, and the recipient of a MacArthur Fellowship.