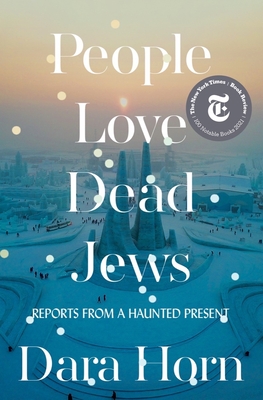 People Love Dead Jews
Reports from a Haunted Present
Hardcover

* Individual store prices may vary.
Description
A startling and profound exploration of how Jewish history is exploited to comfort the living.
Renowned and beloved as a prizewinning novelist, Dara Horn has also been publishing penetrating essays since she was a teenager. Often asked by major publications to write on subjects related to Jewish culture—and increasingly in response to a recent wave of deadly antisemitic attacks—Horn was troubled to realize what all of these assignments had in common: she was being asked to write about dead Jews, never about living ones. In these essays, Horn reflects on subjects as far-flung as the international veneration of Anne Frank, the mythology that Jewish family names were changed at Ellis Island, the blockbuster traveling exhibition Auschwitz, the marketing of the Jewish history of Harbin, China, and the little-known life of the "righteous Gentile" Varian Fry. Throughout, she challenges us to confront the reasons why there might be so much fascination with Jewish deaths, and so little respect for Jewish lives unfolding in the present.
Horn draws upon her travels, her research, and also her own family life—trying to explain Shakespeare's Shylock to a curious ten-year-old, her anger when swastikas are drawn on desks in her children's school, the profound perspective offered by traditional religious practice and study—to assert the vitality, complexity, and depth of Jewish life against an antisemitism that, far from being disarmed by the mantra of "Never forget," is on the rise. As Horn explores the (not so) shocking attacks on the American Jewish community in recent years, she reveals the subtler dehumanization built into the public piety that surrounds the Jewish past—making the radical argument that the benign reverence we give to past horrors is itself a profound affront to human dignity.
Praise For People Love Dead Jews: Reports from a Haunted Present…
Dara Horn proposes a disturbingly fresh reckoning with an ancient hatred, refusing all categories of victimhood and sentimentality. She offers a passionate display of the self-renewing vitality of Jewish belief and practice. Because antisemitism is a Christian problem more than a Jewish one, Christian readers need this book. It is urgently important.
— James Carroll, author of The Truth at the Heart of the Lie

Dara Horn's thoughtful, incisive essays constitute a searing investigation of modern-day antisemitism, in all its disguises and complications. No matter where Horn casts her acute critical eye—from the ruins of the Jewish community in Harbin, China, to the tragedy at Pittsburgh's Tree of Life synagogue—the reports she brings back are at once surprising and enlightening and necessary.
— Ruth Franklin, author of Shirley Jackson and A Thousand Darknesses

Dara Horn has an uncommon mastery of the literary essay, and she applies it here with a relentless, even furious purpose. Horn makes well-worn debates—on Anne Frank and Hannah Arendt, for instance—newly provocative and urgent. Her best essays are by turns tragic and comic, and her magnificent mini biography of Varian Fry alone justifies paying the full hardcover price.
— Tom Reiss, Pulitzer Prize–winning author of The Black Count: Glory, Revolution, Betrayal, and the Real Count of Monte Cristo
W. W. Norton & Company, 9780393531565, 224pp.
Publication Date: September 7, 2021
About the Author
Dara Horn is the author of five novels and one of Granta's Best Young American Novelists. She has taught Jewish literature at Harvard, Sarah Lawrence College, and Yeshiva University. She lives in New Jersey with her husband and four children.