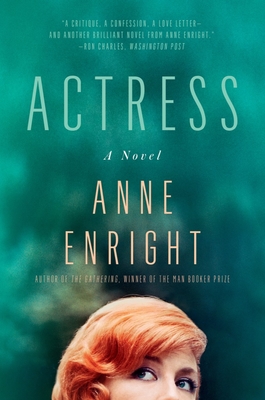 Actress
A Novel
Paperback

* Individual store prices may vary.
Other Editions of This Title:
Hardcover (3/3/2020)
Hardcover, Large Print (10/28/2020)
Description
Longlisted for the 2020 Women's Prize for Fiction

One of Time's 100 Must-Read Books of 2020



"A critique, a confession, a love letter—and another brilliant novel from Anne Enright." —Ron Charles, Washington Post
Katherine O'Dell is an Irish theater legend. Every moment of her life is a performance, with her daughter, Norah, standing in the wings. With age, alcohol, and dimming stardom, however, Katherine's grip on reality grows fitful. Fueled by a proud and long-simmering rage, she commits a bizarre crime.
As Norah's role gradually changes to Katherine's protector, caregiver, and finally legacy-keeper, she revisits her mother's life of fiercely kept secrets; and Norah confronts in turn the secrets of her own sexual and emotional coming-of-age. With virtuosic storytelling, Actress weaves together two generations of women with difficult sexual histories, touching a raw and timely nerve.
Praise For Actress: A Novel…
Intoxicating.… Even while laughing at Enright's wicked mockery, I was moved by the tenderness of her evocation of difficult love.
— Mary Gordon - New York Times

Gorgeously written fiction.… Enright's unflinching portrait… is scrupulously developed and painfully moving.
— Wendy Smith - Boston Globe

There is something that seems effortless about Ms. Enright's writing—an illusion, of course, but one brilliantly sustained.
— Sam Sacks - Wall Street Journal

Captivating.
— Sara Resnick - The New Yorker

[A] skillfully crafted, emotionally charged novel from an expert practitioner.… Enright has given us another first-rate performance.
— Malcolm Forbes - National

A perfect jewel of a book, a dark emerald set in the Irish laureate's fictional tiara, alongside her Man Booker Prize winner The Gathering (2007) and The Green Road (2015). Its brilliance is complex and multifaceted, but completely lucid.… Actress is a deeply humane, often darkly funny novel about the exercise of power over sexually attractive women. The grim subject matter is illuminated by Enright's acute sensitivity to language.… Enright proves, once again, her genius.

— Ruth Scurr - Spectator

Out in force. Anne Enright, the unofficial rock star of literary fiction, cements her stardom with Actress.

— Niamh Donnelly - Irish Times

In Katherine O'Dell, her fictional fallen star of stage and screen… Enright has created a heroine as irresistible to the reader as to her audiences.… She has become a byword for contemporary Irish literary fiction at its finest.
— Lisa Allardice - Guardian

Actress absolutely enthralled me.… [An] immersive, masterful novel.

— Anya Meyerowitz - Red magazine

May I recommend Actress by Anne Enright. Her writing is always pitch perfect, but this is truly exquisite. If there is such a thing as the perfect novel, this is it.

— Nigella Lawson
W. W. Norton & Company, 9780393541458, 288pp.
Publication Date: February 2, 2021
About the Author
Anne Enright is the author of six novels, most recently Actress. The Gathering won the Man Booker Prize and The Forgotten Waltz won the Andrew Carnegie Medal for Excellence in Fiction. She lives in Dublin.
1. The novel opens with Katherine's breakfast routine and Norah's twenty-first birthday, both of which illustrate Katherine's duality as a mother and as a person. Why is it important to open with these events, and what significance do they hold in relation to the mother/daughter relationship as it unfolds in the rest of the novel?
2. Why is Norah initially reluctant to write her mother's story? From what does this reluctance stem?
3. Considering her initial trepidation at being onstage and in front of an audience, is it possible that Katherine's acting career may never have arisen above the role of extra had Pleasance McMaster not gotten scarlet fever?
4. Did Katherine give Norah a reason to doubt that her father had died, or was Norah's quest to find out who she "was" (p. 98) driving her need to find his identity?
5. Was Katherine's dyed red hair the catalyst to her "becoming" Irish? If not, what was?
6. After the car bombs detonated in Dublin, Katherine says to Norah, "Not us" (p. 163) in response to Norah asking if she heard the bombs. What implications do these two words contain?
7. Why did Katherine decide to shoot Boyd O'Neill? Was it because he humiliated her in front of the American director, or did it have more to do with her declining mental health? Or was it something else entirely?
8. Katherine has an innate motherly perception when it comes to Norah, which is especially evident after the incident with Duggan. Did Katherine's own rape contribute to her perception in this circumstance? Does this skill make Katherine a good mother? If not, what, if anything, does?
9. Norah loses her mother twice: first when she is arrested and put in an asylum after shooting Boyd O'Neill, and again when Katherine dies. Which loss is harder for her to endure? Why?
10. Why did the possibility of hearing her mother's voice drive Norah to the sea after she found the cassette player? What does she mean when she says, "This is not a suicide, it is a swim, I must make that much clear" (p. 263)?
11. Norah often portrays her relationship with her husband as tumultuous, but Actress reads as much as a biography of Katherine O'Dell as it does a love letter to Norah's husband. Why is it important to juxtapose the relationships in this way? What parallels exist in Norah's relationships with her mother and with her husband, and what differences lie in Norah's behavior toward each of them?