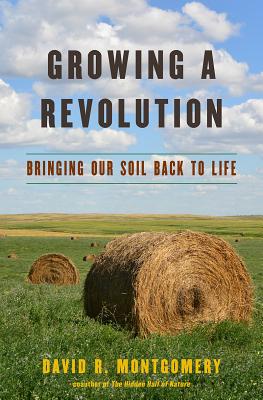 Growing a Revolution
Bringing Our Soil Back to Life
Hardcover

* Individual store prices may vary.
Other Editions of This Title:
Paperback (7/10/2018)
MP3 CD (5/9/2017)
Compact Disc (5/9/2017)
MP3 CD (5/9/2017)
Compact Disc (5/9/2017)
Description
A MacArthur Fellow's impassioned call to make agriculture sustainable by ditching the plow, covering the soil, and diversifying crop rotations.
The problem of agriculture is as old as civilization. Throughout history, great societies that abused their land withered into poverty or disappeared entirely. Now we risk repeating this ancient story on a global scale due to ongoing soil degradation, a changing climate, and a rising population.
But there is reason for hope. David R. Montgomery introduces us to farmers around the world at the heart of a brewing soil health revolution that could bring humanity's ailing soil back to life remarkably fast. Growing a Revolution draws on visits to farms in the industrialized world and developing world to show that a new combination of farming practices can deliver innovative, cost-effective solutions to problems farmers face today.
Cutting through standard debates about conventional and organic farming, Montgomery explores why practices based on the principles of conservation agriculture help restore soil health and fertility. Farmers he visited found it both possible and profitable to stop plowing up the soil and blanketing fields with chemicals. Montgomery finds that the combination of no-till planting, cover crops, and diverse crop rotations provides the essential recipe to rebuild soil organic matter. Farmers using these unconventional practices cultivate beneficial soil life, smother weeds, and suppress pests while relying on far less, if any, fertilizer and pesticides.
These practices are good for farmers and the environment. Using less fossil fuel and agrochemicals while maintaining crop yields helps farmers with their bottom line. Regenerative practices also translate into farms that use less water, generate less pollution, lower carbon emissions—and stash an impressive amount of carbon underground. Combining ancient wisdom with modern science, Growing a Revolution lays out a solid case for an inspiring vision where agriculture becomes the solution to environmental problems, helping feed us all, cool the planet, and restore life to the land.
Praise For Growing a Revolution: Bringing Our Soil Back to Life…
Surprising, inspiring, and thoroughly engaging. . . . Relevant to farmers, backyard gardeners, and everyone who cares about our future, this is a clarion call that should not be ignored.
— Booklist

In his reader-friendly style, Montgomery describes the environmental crossroads at which we stand and shows us not only the devastation but the potential solution that exists right beneath our feet.
— Hope Jahren, author of Lab Girl

In the past couple of years, an awful lot of smart people have started talking very seriously about the state of the planet's soil. If you want to understand what's at stake, and learn about the exciting possibilities, this book is a fine starting point.
— Bill McKibben, author of Deep Economy

This is a Sand County Almanac of agriculture, a Walden of loam and tilth, a paradigm-bending journey into the principles that guide the life beneath our feet and thus the life that nourishes us.

— Paul Hawken, author of The Ecology of Commerce and Natural Capitalism

Brilliant, well researched, eloquent, and deeply hopeful.
— Denis Hayes, founder of Earth Day

Montgomery has the rare talent of making complex scientific topics not only understandable but truly fascinating. Growing a Revolution is both exceptionally enlightening and tremendously enjoyable. Highly recommended reading.

— Nicolette Hahn Niman, author of Defending Beef and Righteous Porkchop

Being a long time 'doom bat' regarding the fate of the natural world, I was given hope by Growing a Revolution that there is a real possibility of revolutionizing agriculture with the result of growing more food, employing people, and putting carbon back into the ground.

— Yvon Chouinard, founder of Patagonia
W. W. Norton & Company, 9780393608328, 320pp.
Publication Date: May 9, 2017
About the Author
David R. Montgomery is a professor of Earth and space sciences at the University of Washington. He studies the evolution of topography and the influence of geomorphological processes on ecological systems and human societies. He received a BS from Stanford University (1984, geology) and a PhD from UC Berkeley (1991, geomorphology). His field studies have included projects in the Philippines, eastern Tibet, South America, California, and the Pacific Northwest of North America. In 2008 Montgomery received a MacArthur Fellowship. His books Dirt: The Erosion of Civilizations, King of Fish: The Thousand-Year Run of Salmon, and The Rocks Don't Lie: A Geologist Investigates Noah's Flood have all won the Washington State Book Award in General Nonfiction. Montgomery's latest book, Growing a Revolution: Bringing Our Soil Back to Life, was a finalist for the PEN/E.O. Wilson award for Literary Science Writing. His books have been translated into nine languages.
or
Not Currently Available for Direct Purchase