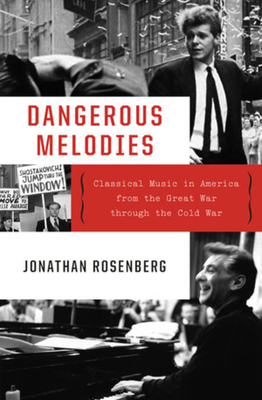 Dangerous Melodies
Classical Music in America from the Great War through the Cold War
Hardcover

* Individual store prices may vary.
Description
A Juilliard-trained musician and professor of history explores the fascinating entanglement of classical music with American foreign relations.
Dangerous Melodies vividly evokes a time when classical music stood at the center of twentieth-century American life, occupying a prominent place in the nation's culture and politics. The work of renowned conductors, instrumentalists, and singers—and the activities of orchestras and opera companies—were intertwined with momentous international events, especially the two world wars and the long Cold War.
Jonathan Rosenberg exposes the politics behind classical music, showing how German musicians were dismissed or imprisoned during World War I, while numerous German compositions were swept from American auditoriums. He writes of the accompanying impassioned protests, some of which verged on riots, by soldiers and ordinary citizens. Yet, during World War II, those same compositions were no longer part of the political discussion, while Russian music, especially Shostakovich's, was used as a tool to strengthen the US-Soviet alliance. During the Cold War, accusations of communism were leveled against members of the American music community, while the State Department sent symphony orchestras to play around the world, even performing behind the Iron Curtain.
Rich with a stunning array of composers and musicians, including Karl Muck, Arturo Toscanini, Wilhelm Furtwängler, Kirsten Flagstad, Aaron Copland, Van Cliburn, and Leonard Bernstein, Dangerous Melodies delves into the volatile intersection of classical music and world politics to reveal a tumultuous history of twentieth-century America.
Praise For Dangerous Melodies: Classical Music in America from the Great War through the Cold War…
A riveting and illuminating book.
— Lloyd Schwartz

Authoritative….not only valuable and fair-minded history but an unceasingly engaging series of tales.
— Tim Page

It's remarkable how much Rosenberg's detailed study applies to current events and cultural discourse…A clear-eyed and perspicacious work for classical music scholars and fans and anyone interested in the intersection of politics and culture.

Rosenberg masterfully tells these stories.

A thoroughly researched and engrossing history…Richly detailed and freshly illuminating. 

Classical music aficionados will find much enjoyable lore from a time when the music was at the center of international rivalries.

Backed up by meticulous scholarship, Dangerous Melodies is clearly motivated by a great love for music; throughout this tribute to its emotional power, the author poses insightful and disturbing questions about the political uses that can be made of humanity's deep need for artistic communication.

— Eugene Drucker, founding member, Emerson String Quartet, and author of The Savior

Jonathan Rosenberg's important book provides a panoramic yet fascinatingly detailed—and often surprising—view of the political role played, willingly or otherwise, by classical music and musicians in the United States through much of the twentieth century. Highly recommended for anyone who cares about the intersection of art and politics.
— Harvey Sachs, author of Toscanini: Musician of Conscience

Riveting and eye opening, Dangerous Melodies tells the story of a long period in American history when classical music played an intensely dramatic role in how US citizens viewed world events, often fearing for their very safety if certain performances were to take place. Thoroughly researched and well written, the book offers both scholar and general reader invaluable information through gripping stories of intrigue, heroism, and villainy.

— L. Michael Griffel, chairperson of the Music History Department, Juilliard School

Jonathan Rosenberg provides a richly textured portrait of how classical music, with its concentration of German and Russian repertoire and performers, could fixate American communities and give rise to sentiments across the political spectrum, from knee-jerk nationalism to subtle reflection. The result is an engrossing story that illuminates an earlier era while serving as a cautionary tale for our own.
— James M. Keller, program annotator of the New York Philharmonic and the San Francisco Symphony
W. W. Norton & Company, 9780393608427, 512pp.
Publication Date: December 10, 2019
About the Author
Jonathan Rosenberg, professor of twentieth-century US history at Hunter College and the Graduate Center of the City University of New York, is author of Dangerous Melodies: Classical Music in America from the Great War through the Cold War; How Far the Promised Land?: World Affairs and the American Civil Rights Movement from the First World War to Vietnam; and co-author of Kennedy, Johnson, and the Quest for Justice: The Civil Rights Tapes. He lives in Croton-on-Hudson, New York.
Coverage from NPR