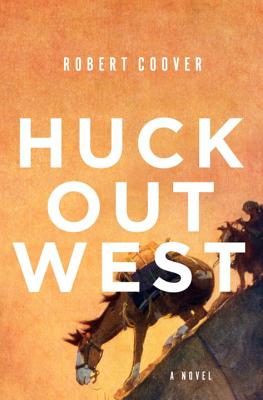 Huck Out West
A Novel
Hardcover

* Individual store prices may vary.
Other Editions of This Title:
Paperback (2/6/2018)
Compact Disc (1/10/2017)
Paperback, Large Print (5/17/2017)
Description
Our leading postmodernist novelist turns his iconoclastic eye to a great American classic in this sequel to The Adventures of Huckleberry Finn.
At the end of Mark Twain's Huckleberry Finn, on the eve of the Civil War, Huck and Tom Sawyer decide to escape "sivilization" and "light out for the Territory." In Robert Coover's Huck Out West, also "wrote by Huck," the boys do just that, riding for the famous but short-lived Pony Express, then working as scouts for both sides in the war.
They are suddenly separated when Tom decides he'd rather own civilization than leave it, returning east with his new wife, Becky Thatcher, to learn the law from her father. Huck, abandoned and "dreadful lonely," hires himself out to "whosoever." He rides shotgun on coaches, wrangles horses on a Chisholm Trail cattle drive, joins a gang of bandits, guides wagon trains, gets dragged into U.S. Army massacres, suffers a series of romantic and barroom misadventures.
He is eventually drawn into a Lakota tribe by a young brave, Eeteh, an inventive teller of Coyote tales who "was having about the same kind of trouble with his tribe as I was having with mine." There is an army colonel who wants to hang Huck and destroy Eeteh's tribe, so they're both on the run, finding themselves ultimately in the Black Hills just ahead of the 1876 Gold Rush.
This period, from the middle of the Civil War to the centennial year of 1876, is probably the most formative era of the nation's history. In the West, it is a time of grand adventure, but also one of greed, religious insanity, mass slaughter, virulent hatreds, widespread poverty and ignorance, ruthless military and civilian leadership, huge disparities of wealth. Only Huck's sympathetic and gently comical voice can make it somehow bearable.
Praise For Huck Out West: A Novel…
Huck Out West [is] the latest to emerge from this wild genius's half-century outpouring of postmodernist books, stories, novellas and plays....Under Coover's hell-hot pen....this pulsating anti-epic....establishes Huck in exactly the place Twain himself planned to take him.

— Ron Powers

Magical....Among the many elements that Coover imitates so well is Twain's misanthropy, his macabre sense of humor and his perpetually offended innocence....Indeed, everybody seems to be growing old except Huck, who remains a voice of perplexed kindness, and Coover, who, at 84, is still a miraculously sharp writer.
— Ron Charles

An audacious and revisionary sequel to Twain's masterpiece. It is both true to the spirit of Twain and quintessentially Cooveresque.

Coover's speculations on what happened to Huck after he broke free of his Missouri hometown make for a wildly funny, violently imaginative Western yarn with caustic humor Twain himself might have envied.
— Tom Beer

A spacious-skies frontier ripsnorter that stands alone as a wildly funny, violently imaginative Western yarn with flamboyant plot turns and caustic humor Twain himself might have appreciated, if not envied....[a] droll yet faithful replication of Twain's first-person narration.
— Gene Seymour

Mr. Coover has been one of the country's leading postmodernists. But Huck Out West doesn't deconstruct The Adventures of Huckleberry Finn so much as reprise it....as in Twain's original, the winsome humor of Huck's muddytatings lend the story a deceptive innocence.

— Sam Sacks

Rowdy, funny, and brilliant....It's not necessary to remember Mark Twain's classic to enjoy this tale....It's Cormac McCarthy's Blood Meridian narrated by the good-natured Huck....Coover takes Twain's characters and creates a worthy extension of their lives. In doing that, he creates a scathing vision of the violent Westward movement as seen through the innocent eyes of Huckleberry Finn.


An astonishing picaresque novel, narrated by Huck himself in a voice as authentic as Twain's original creation....Huck Out West is simply splendid, raucous, ribald and rib-ticklin'. After fifty years of incredible novels, this is another one of Coover's triumphs.


An extraordinary book…a beautifully earnest and direct work from perhaps the most formidable trickster in American letters. Anyone with an ounce of heart in their chests should read this immediately.
— Alan Moore, author of Jerusalem

In Huck Out West, Robert Coover brilliantly (and outrageously) revives Mark Twain's cardinal character by way of deconstructing any number of our cherished myths. Coover is in fine antic form here—truly, Huck never had it so good.

— T. C. Boyle

A giant stands on the shoulders of a giant, and the view is large and giddying. In its vibrant skylarking and in its yearning undertow, this disenchanted enchantment throws new light on Twain's America—and on Robert Coover's.
— Garth Risk Hallberg, author of City on Fire
W. W. Norton & Company, 9780393608441, 320pp.
Publication Date: January 10, 2017
About the Author
Robert Coover is the author of Huck Out West, among many other works of fiction. He is a pioneer in the field of electronic writing, and founded the International Writers Project, a freedom-to-write program, at Brown University. He lives in Providence, Rhode Island.
or
Not Currently Available for Direct Purchase