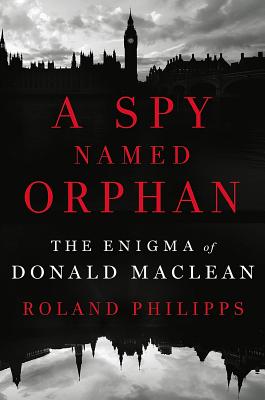 A Spy Named Orphan
The Enigma of Donald Maclean
Hardcover

* Individual store prices may vary.
Other Editions of This Title:
Compact Disc (6/12/2018)
Paperback (6/11/2019)
Description
The first full biography of one of the twentieth century's most notorious spies.
Donald Maclean was one of the most treacherous spies of the Cold War era and a key member of the infamous "Cambridge Five" spy ring, yet the full extent of this shrewd, secretive man's betrayal has never been explored—until now. Drawing on a wealth of previously classified files and unseen family papers, A Spy Named Orphan meticulously documents his extraordinary story.
Roland Philipps unravels Maclean's character and contradictions, informed by a domineering father in a childhood at once liberal and austere. Maclean became infatuated with Communism during his school days, even before his time at Cambridge. A model diplomat, he rose through the ranks of the British Foreign Office rapidly, never arousing suspicion of his chilling double life. He married an American woman despite his sexual ambivalence and increasing antipathy to the United States. He was prone to alcoholic binges that should have blown his cover, yet they never found their way onto his record. A sworn enemy of capitalism, he had access to some of the greatest secrets of the time, transmitting invaulable intelligence to his Soviet handlers on the atom bomb and the shape of the postwar world. Maclean was a spy who loved and loathed the role. In a brazen escapade, he successfully eluded the incredulous authorities to defect to the Soviet Union, where he worked and lived unrepentantly for the next thirty years.
Philipps offers memorable portraits of Maclean's coconspirators—Kim Philby, Guy Burgess, and Anthony Blunt—as well as the gifted Russian spymasters of the period; a vibrant evocation of Cambridge and London between the wars; colorful descriptions of Maclean's postings in Paris, Cairo, and Washington, D.C.; and a riveting re-creation of the tense international code-breaking operation that ultimately exposed him. A gripping tale of blind faith and fierce loyalty alongside dangerous duplicity and human vulnerability, Philipps's narrative will stand as the definitive account of the mysterious and elusive man first codenamed "Orphan."
Praise For A Spy Named Orphan: The Enigma of Donald Maclean…
Scrupulous....gripping, enlightening.

Brilliantly fluent....This biography first grips and then lingers long in the mind. It is a page-turner of the most empathetic kind.
— Rachel Cooke

Roland Philipps relates the complex narrative of
Maclean's treason—and those of his colleagues—with tremendous aplomb, limpidity
and acuity....Philipps is very astute on the nuances of psychological
interpretation.
— William Boyd

The definitive account of the life of a 'gifted'
traitor....By drawing on a wealth of previously classified material, Philipps
weaves a gripping tale of misplaced loyalty, intrigue and betrayal that is
unlikely to be bettered.

Philipps sets a great example by being punchy and
hard-nosed in his handling of facts, but pliant, imaginative and humane in his
understanding of motives and emotions.
— Richard Davenport-Hines

Excellent….What fascinates Philipps is not what
Maclean did but why he did it….Philipps' real achievement is to show the toll
this took on Maclean's conflicted psyche.
— Dominic Sandbrook, The Sunday Times (UK)

Fascinating and page-turning. An exceptional story of espionage and betrayal, thrillingly told. I devoured it.
— Philippe Sands, author of East West Street

Donald Maclean was arguably the most valuable, and certainly the most troubled, of the Cambridge spies. Roland Philipps knows the world that formed him and has given us the fullest account we've yet had not only of his treason but of the conflicted man who committed it.
— Joseph Kanon, New York Times best-selling author of Defectors

From his riveting recreation of the Cold War atmosphere to his in-depth exploration of such a brilliant, troubled and duplicitous character, Roland Philipps has created a masterpiece. The rich renderings of secret assignations, smuggled documents, damning intelligence and brilliant code-breaking will delight lovers of fiction and non-fiction alike. Picture Erik Larson meets John le Carré and you have only begun to scratch the surface of this absolutely gripping book.
— Brad Thor, New York Times best-selling author of Use of Force

With A Spy Named Orphan, the last piece of this bizarre jigsaw falls into place. The outline story is familiar, but the amount of new detail here—on Maclean's personal, professional, and secret lives—exceeds all expectations. Roland Philipps has managed to make the new material come alive by relating it intimately to its historical context, of which he has a deep and sympathetic understanding.

— Sebastian Faulks, author of Birdsong
W. W. Norton & Company, 9780393608571, 448pp.
Publication Date: May 1, 2018
About the Author
Roland Philipps is the grandson of Roger Makins, the last man from the Foreign Office to see Donald Maclean before his escape to the Soviet Union. He was publishing director of Hodder & Stoughton and Macmillan, London, and managing director of John Murray Publishers. He lives in London.