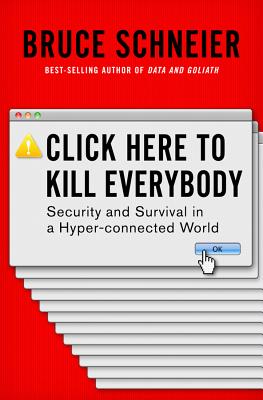 Click Here to Kill Everybody
Security and Survival in a Hyper-connected World
Hardcover

* Individual store prices may vary.
Other Editions of This Title:
Paperback (10/8/2019)
MP3 CD (2/12/2019)
Description
A world of "smart" devices means the Internet can kill people. We need to act. Now.
Everything is a computer. Ovens are computers that make things hot; refrigerators are computers that keep things cold. These computers—from home thermostats to chemical plants—are all online. The Internet, once a virtual abstraction, can now sense and touch the physical world.
As we open our lives to this future, often called the Internet of Things, we are beginning to see its enormous potential in ideas like driverless cars, smart cities, and personal agents equipped with their own behavioral algorithms. But every knife cuts two ways.
All computers can be hacked. And Internet-connected computers are the most vulnerable. Forget data theft: cutting-edge digital attackers can now crash your car, your pacemaker, and the nation's power grid. In Click Here to Kill Everybody, renowned expert and best-selling author Bruce Schneier examines the hidden risks of this new reality.
After exploring the full implications of a world populated by hyperconnected devices, Schneier reveals the hidden web of technical, political, and market forces that underpin the pervasive insecurities of today. He then offers common-sense choices for companies, governments, and individuals that can allow us to enjoy the benefits of this omnipotent age without falling prey to its vulnerabilities.
From principles for a more resilient Internet of Things, to a recipe for sane government regulation and oversight, to a better way to understand a truly new environment, Schneier's vision is required reading for anyone invested in human flourishing.
Praise For Click Here to Kill Everybody: Security and Survival in a Hyper-connected World…
Schneier, more than the average policymaker or marketing blowhard, has a pretty good idea of what the actual benefits of these systems can be. He avoids the twin temptations of wholesale dismissal and breathless hype, and charts a course that manages the tricky business of being both nuanced and exciting.
— Cory Doctorow - Boing Boing

Schneier skillfully guides readers through serious attacks that have happened already—and moves on to those he believes are just over the horizon.… Schneier sets out detailed solutions that should be required reading for politicians across the world.
— Financial Times

"[Click Here to Kill Everybody] is sober, lucid and often wise in diagnosing how the security challenges posed by the expanding Internet came about, and in proposing what should (but probably won't) be done about them.

— Nature

This thought-provoking book will mainly have you nodding in agreement and shaking your head in frustration. The future is not yet written, and so prediction, like attribution, is hard. Hopefully, enough people will read the book to change the path of the future. I plan to re-read it, and there can be no greater praise.
— Paul Baccas - Virus Bulletin

Useful for an internet user but particularly for those concerned with privacy, civil liberties, and related issues.
— Kirkus Reviews
W. W. Norton & Company, 9780393608885, 288pp.
Publication Date: September 4, 2018
About the Author
Bruce Schneier is "one of the world's foremost security experts" (Wired), a "security guru" (Economist), and the best-selling author of thirteen books. He is a Fellow and lecturer at the Harvard Kennedy School and the Berkman Klein Center for Internet and Society and a board member of the Electronic Frontier Foundation, Access Now, and the Tor Project.