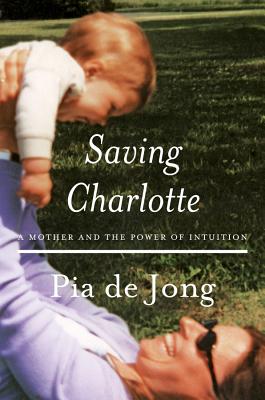 Saving Charlotte
A Mother and the Power of Intuition
Hardcover

* Individual store prices may vary.
Description
Best-selling author Pia de Jong's vivid memoir about her newborn daughter's battle with leukemia and the startling decision that led to her recovery.
On a still summer night in a seventeenth-century canal house in Amsterdam's old quarter, Pia de Jong gives birth to a delicate, bright-eyed baby girl with a riddle on her back—a pale blue spot that soon multiplies. In a bare, air-conditioned hospital room, a doctor reveals the devastating answer: it is a rare and deadly form of leukemia, often treated with chemotherapy, a cure nearly as dangerous to a newborn as the disease itself.
Pia and her husband Robbert make an intuitive decision. They do not subject Charlotte to chemotherapy; they bring her home. They transform their canal house into a sanctuary where Charlotte can live surrounded by love and strength, where Pia can give her a chance to live. In return, Charlotte gives her mother the greatest gift of all: purpose.
Saving Charlotte is the story of a daughter's fight to survive, and of a mother's fight to live a life of passion and meaning alongside her.
Praise For Saving Charlotte: A Mother and the Power of Intuition…
[A] compelling memoir. . . . De Jong movingly describes the work of nursing her daughter back to health, and sketches the Amsterdam neighborhood . . . that seems to cocoon the struggling family.
— The New Yorker

What could be more life-shattering than being told that your newborn baby has a deadly leukemia? That awful news was delivered to young mother Pia de Jong. But rather than subject her infant daughter to devastating chemotherapy, she decided to follow her intuition—to watch and wait. Miraculously, Charlotte survived—and in the crisis, de Jong found her life's calling as a writer. Saving Charlotte is her luminous account, trembling with fear—but also with hope—of one extraordinary year.
— Annalyn Swan, Pulitzer Prize–winning coauthor of De Kooning: An American Master

A book about courage, about hope, about life with all its paradoxes and complexity. Carefully structured and beautifully written in spare, precise, and resonant language, Saving Charlotte conveys all the heartache, all the vulnerability, all the great joys of fighting for a child's life.

— Sheila Kohler, author of Once We Were Sisters

Very powerful—almost too emotionally hard to read in some places. Pia de Jong's writing makes me think of the 19th century American luminist painters—lit from within—and even more of Vermeer.
— Evan Thomas

Gorgeous . . . A ravishing reminder of life's mysteries—and miracles.
— Kim Hubbard - People

Poetically and dramatically written. . . . A beautiful tale of family medical distress and reprieve.
— Booklist

Tender . . . lyrical prose.
— Shelf Awareness

Saving Charlotte is simply a beautiful book, impossible to put down, clear as a jewel and flawless in its depths. Pia de Jong writes with incredible grace and an eye for unforgettable details that glow in our minds long after we've finished the book. She's famous in the Netherlands for her work, and now I see why.

— Richard Preston, author of The Wild Trees and The Hot Zone
W. W. Norton & Company, 9780393609158, 256pp.
Publication Date: July 11, 2017
About the Author
Pia de Jong is a best-selling novelist and a regular contributor to the Washington Post. She lives in Princeton, New Jersey, with her husband Robbert Dijkgraaf, director of the Institute for Advanced Study, and their three children, including Charlotte.
or
Not Currently Available for Direct Purchase