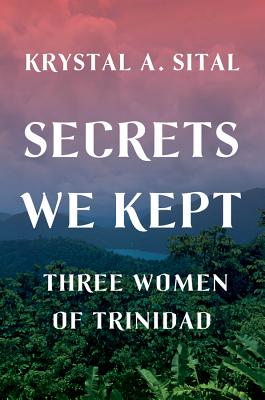 Secrets We Kept
Three Women of Trinidad
Hardcover

* Individual store prices may vary.
Description
An eloquent new Caribbean literary voice reveals the hidden trauma and fierce resilience of one Trinidadian family.
There, in a lush landscape of fire-petaled immortelle trees and vast plantations of coffee and cocoa, where the three hills along the southern coast act as guardians against hurricanes, Krystal A. Sital grew up idolizing her grandfather, a wealthy Hindu landowner. Years later, to escape crime and economic stagnation on the island, the family resettled in New Jersey, where Krystal's mother works as a nanny, and the warmth of Trinidad seems a pretty yet distant memory. But when her grandfather lapses into a coma after a fall at home, the women he has terrorized for decades begin to speak, and a brutal past comes to light.
In the lyrical patois of her mother and grandmother, Krystal learns the long-held secrets of their family's past, and what it took for her foremothers to survive and find strength in themselves. The relief of sharing their stories draws the three women closer, the music of their voices and care for one another easing the pain of memory.
Violence, a rigid ethnic and racial caste system, and a tolerance of domestic abuse—the harsh legacies of plantation slavery—permeate the history of Trinidad. On the island's plantations, in its growing cities, and in the family's new home in America, Secrets We Kept tells a story of ambition and cruelty, endurance and love, and most of all, the bonds among women and between generations that help them find peace with the past.
Praise For Secrets We Kept: Three Women of Trinidad…
One reads Sital's story appalled and moved by the suffering of these indomitable women…A reader can only applaud the author who has so skillfully preserved them in such loving, precise detail.
— Sheila Kohler - New York Times

This is a striking book.
And the strength, bravery and sheer will of the women will make you glad you
read it
— Lucy Kogler - Lit Hub

In this stunning, unforgettable memoir, Krystal Sital writes with unflinching honesty, exploring with great depth and complexity her grandmother's liberation after her grandfather's death and the complications that arise from this fiery matriarch's quest to selfhood after years of abuse and servitude. A brilliant account of gender inequality and the burdens we bear as women in the Caribbean.
— Nicole Dennis-Benn, author of Here Comes the Sun

Once a decade or so, if we're fortunate, comes a book that seems to insist itself into being, on that rises from the heartbreakingly silent depths of the voiceless. Secrets We Kept is that book. It is a love song to the author's Trinidadian mother and grandmother, yes, but it is also a hymn of justice to the ignored and forgotten wounds of enduring and resilient women throughout the ages. It is a tribute to truth in the face of denial. It is a deeply resonant, timely, and necessary work of art.

— Andre Dubus III, author of Gone So Long

Powerful and heart-wrenching, Krystal Sital's beautifully written memoir, Secrets We Kept, details her family history on Trinidad, as her grandmother and mother finally unleash their voices to uncover the brutal truth of who her grandfather truly was.

— Jean Kwok, author of Mambo in Chinatown and Girl in Translation

Krystal A. Sital brings the generations of her family powerfully to life, rendering their struggles and determination with courage and compassion. I love how it is first the sense of voice that constitutes place; it means that the most vivid world I find myself in is the one inside each of Sital's family members, rendered with an honest, rigorous love.
— Tracy K. Smith, author of Ordinary Light and Poet Laureate of the United States

Krystal A. Sital is no less than a ventriloquist, giving breath and voice to three generations of courageous Trinidadian women through bracing, evocative prose.
— Gaiutra Bahadur, author of the Orwell Prize-shortlisted Coolie Woman: The Odyssey of Indenture

In luminous, aching prose, Krystal A. Sital summons a rich polyphony of voices, spanning generations. As these voices build and weave with dazzling intricacy across the years and the miles, they form a reckoning, a prayer, an unforgettable testament to the strength of women in response to violence, the myriad ways that they are able to remake the unspeakable into extraordinary acts of love. Sital's ability to look straight at the unspoken traumas of her family and give them voice, with both compassion and unsparing honesty, is the ultimate expression of love.
— Inara Verzemnieks, author of Among the Living and the Dead

Intricate, searing, Krystal A. Sital's multi-generation tale draws from the true voices of the women in her family. Written in prose both gently loving and harrowing, she gives us their pain, their endurance—and their ultimate strength. A remarkable feat of storytelling, a testament to the power of listening, and a crucial contribution to Caribbean literature.
— Marina Budhos, author of Watched and The Professor of Light

Krystal A. Sital's Secrets We Kept is a masterful exploration of family history and hurt. With her grandfather unresponsive and close to death, Sital bears witness to her mother and grandmother's recollections of life in Trinidad with him and tries to reconcile two versions of this man: the gentle grandfather who played with her, and the tyrant who beat his wife, sister, and children. Secrets We Kept investigates storytelling itself and the gaps between a life lived and its different, at times clashing depictions. It should be required reading for students of creative nonfiction.

— Jeannie Vanasco, author of The Glass Eye and Things We Didn't Talk About When I Was a Girl
W. W. Norton & Company, 9780393609264, 352pp.
Publication Date: February 20, 2018
About the Author
Krystal A. Sital was born in the Republic of Trinidad and Tobago, and moved to the United States in 1999. A PEN Award finalist and Hertog fellow, she holds an MFA from Hunter College. Her work has appeared in the New York Times Magazine, Salon, Today's Parent, the Margins, the Caribbean Writer, Brain Child, and elsewhere. She lives in New Jersey with her husband and two daughters.
or
Not Currently Available for Direct Purchase