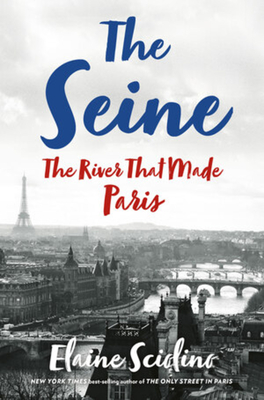 The Seine
The River that Made Paris
Hardcover

* Individual store prices may vary.
Other Editions of This Title:
Paperback (9/29/2020)
MP3 CD (12/31/2019)
Description
A vibrant, enchanting tour of the Seine from longtime New York Times foreign correspondent and best-selling author Elaine Sciolino.
Elaine Sciolino came to Paris as a young foreign correspondent and was seduced by a river. In The Seine, she tells the story of that river from its source on a remote plateau of Burgundy to the wide estuary where its waters meet the sea, and the cities, tributaries, islands, ports, and bridges in between.
Sciolino explores the Seine through its rich history and lively characters: a bargewoman, a riverbank bookseller, a houseboat dweller, a famous cinematographer known for capturing the river's light. She discovers the story of Sequana—the Gallo-Roman healing goddess who gave the Seine its name—and follows the river through Paris, where it determined the city's destiny and now snakes through all aspects of daily life. She patrols with river police, rows with a restorer of antique boats, sips champagne at a vineyard along the river, and even dares to go for a swim. She finds the Seine in art, literature, music, and movies from Renoir and Les Misérables to Puccini and La La Land. Along the way, she reveals how the river that created Paris has touched her own life. A powerful afterword tells the dramatic story of how water from the depths of the Seine saved Notre-Dame from destruction during the devastating fire in April 2019.
A "storyteller at heart" (June Sawyers, Chicago Tribune) with a "sumptuous eye for detail" (Sinclair McKay, Daily Telegraph), Sciolino braids memoir, travelogue, and history through the Seine's winding route. The Seine offers a love letter to Paris and the most romantic river in the world, and invites readers to explore its magic for themselves.
Praise For The Seine: The River that Made Paris…
I learned so much from this book. Elaine Sciolino is a graceful, companionable writer, someone who speaks about France in the most enjoyably American way... [She] proceeds from colorful detail to revealing detail, gently informing even as she entertains... Sciolino has laid one more beautiful and amusing wreath on the altar of the City of Light.
— Edmund White - New York Times

Sciolino's flowing travelogue churns up fascinating history.
— Jennifer Barger - National Geographic

A soulful, transformative voyage along the body of water that defines the City of Light. Elaine Sciolino is the perfect guide to the world's most romantic river.
— Lauren Collins, The New Yorker Paris staff writer and New York Times best-selling author of When in French: Love in a Second Language

Anyone who, like me, loves and collects books about Paris will be grateful for this wonderful addition. It's erudite and energetic, like the river itself. Read Elaine Sciolino's own story as it emerges from her pages and her travels. I recommend The Seine as both a guidebook and a great bedside read.

— Diane Johnson, New York Times best-selling author of Le Divorce and Flyover Lives

This beautifully written and deeply personal book captures something profound, not just about the Seine and France, but about people's lives and how important rivers are to them…Elaine Sciolino writes with the authority of a historian, the sleuthing skills of a journalist, and the voice of a storyteller eager to recount the tales of those who have been touched by the Seine.
— David A. Bell, Lapidus Professor of History at Princeton University

Every day, through the windows of my restaurant, I have the sheer pleasure of gazing down at the Seine, awed by its beauty and vitality. In her lyrical and touching book, Elaine Sciolino brings this magical river to life for everyone to experience and enjoy. This is the finest book I've ever read about the Seine, the river that is the most beautiful avenue of Paris!
— Guy Savoy, chef and restaurateur

[Sciolino] shares her love affair with Paris and the Seine with enchanting anecdotes and insights...Francophiles will adore this book, and others may become Francophiles as they read.
— Kirkus Reviews (starred review)

Written in an enjoyable journalistic style, the book is both a travelog and a cultural history of not only the river itself but the people who have lived, worked, and taken inspiration from it... For readers who have walked along the banks of the Seine or dream of someday doing so, this love letter to a river is highly recommended
— Library Journal (starred review)

This entertaining account flows along like a love letter to the Seine... Readers will enjoy this engaging and authoritative account, whether planning a trip, reminiscing about past travels, or sitting in an armchair, dreaming of wandering along romantic riverbanks.
— Booklist
W. W. Norton & Company, 9780393609356, 304pp.
Publication Date: October 29, 2019
About the Author
Elaine Sciolino is a contributing writer and former Paris bureau chief for the New York Times. She is the author of the New York Times bestseller The Only Street in Paris. She has lived in Paris since 2002.