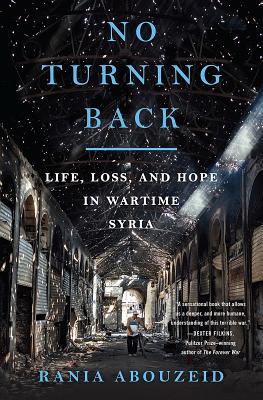 No Turning Back
Life, Loss, and Hope in Wartime Syria
Hardcover

* Individual store prices may vary.
Other Editions of This Title:
Digital Audiobook (3/12/2018)
Digital Audiobook (2/10/2020)
Paperback (3/5/2019)
Compact Disc (3/13/2018)
MP3 CD (3/13/2018)
Description
A New York Times Notable Book of 2018



This astonishing book by the prize-winning journalist Rania Abouzeid tells the tragedy of the Syrian War through the dramatic stories of four young people seeking safety and freedom in a shattered country.
Extending back to the first demonstrations of 2011, No Turning Back dissects the tangle of ideologies and allegiances that make up the Syrian conflict. As protests ignited in Daraa, some citizens were brimming with a sense of possibility. A privileged young man named Suleiman posted videos of the protests online, full of hope for justice and democracy. A father of two named Mohammad, secretly radicalized and newly released from prison, saw a darker opportunity in the unrest. When violence broke out in Homs, a poet named Abu Azzam became an unlikely commander in a Free Syrian Army militia. The regime's brutal response disrupted a family in Idlib province, where a nine-year-old girl opened the door to a military raid that caused her father to flee. As the bombings increased and roads grew more dangerous, these people's lives intertwined in unexpected ways.
Rania Abouzeid brings readers deep inside Assad's prisons, to covert meetings where foreign states and organizations manipulated the rebels, and to the highest levels of Islamic militancy and the formation of ISIS. Based on more than five years of clandestine reporting on the front lines, No Turning Back is an utterly engrossing human drama full of vivid, indelible characters that shows how hope can flourish even amid one of the twenty-first century's greatest humanitarian disasters.
Praise For No Turning Back: Life, Loss, and Hope in Wartime Syria…
[S]earing and sparingly beautiful…War, she reminds us, alters the architecture of the city as much as it scrambles the human psyche.
— Najwa al-Qattan - Los Angeles Review of Books

Page after page of extraordinary reporting and many flashes of exquisitely descriptive prose. ... [U]nforgettable … Abouzeid's remarkable journalistic and literary work has given us, at last, a book worthy of the enormous tragedy that is Syria.
— Christopher Dickey - New York Times Book Review

[An] unparalleled account of the Syrian uprising, drawing on six years of immersive reporting.
— The New Yorker

Excellent. ... [P]robably the most perceptive
journalistic account of the war so far, highlighting the individual stories
while never losing sight of the broader situation and history. ... Abouzeid's
understated bravery and ability to merge into the background speak to the power
of immersive eyewitness reporting, foregrounding the experience of the people
she meets and writing with modesty.
— Lindsey Hilsum - New York Review of Books

Extraordinary. … There is no better way to refocus on Syria than to read Rania Abouzeid's book. Abouzeid tells the story of the conflict through the life stories of individuals. What could simply be a standard journalistic device succeeds triumphantly because of the skill and sensitivity of Abouzeid's writing, the depth of her reporting and the extraordinary nature of the stories she tells. As a result, her book has the compelling qualities of a novel, rather than simply a work of reportage.
— Financial Times

[No Turning Back] offers page after page of extraordinary reporting and exquisite prose, rendering its individual subjects with tremendous intimacy.

— "8 New Books We Recommend This Week" - The New York Times

Eloquent and devastating …
Abouzeid relates the drama of this chaos in gripping prose.
— The Christian Science Monitor

The civil war in Syria is the most catastrophic event of our time, and the most dimly understood. Most journalists won't go near it. Rania Abouzeid has produced a work of stunning reportage from the very heart of the conflict, daring to go to the most dangerous places in order to get the story. The result is a sensational book that allows us a deeper, and more humane, understanding of this terrible war; it's a credit to Abouzeid's bravery and fortitude.
— Dexter Filkins, Pulitzer Prize–winning author of The Forever War

No Turning Back stands far above anything I have read about the Syrian war. Rania Abouzeid has produced a masterpiece, weaving together the lives of protesters, victims, and remorseless killers at the center of this century's most appalling human tragedy. No one else, to my knowledge, has reported this story so bravely or narrated it with such intimacy and power.

— Robert F. Worth, author of A Rage for Order: The Middle East in Turmoil, from Tahrir Square to ISIS

Rania Abouzeid has written an intimate portrait of a chaotic war. Her
profiles of Syrians caught up in the savage unraveling of the country heightens
the tragedy, a lens missing from the news stories. This book is a must read for
anyone who has watched the seemingly incomprehensible horror and for policy
makers who must try to stop the violence.
— Deb Amos, author of Eclipse of the Sunnis: Power, Exile, and Upheaval in the Middle East

Widely recognized as the bravest of reporters…Abouzeid writes with great fluidity and authority about the most important foreign policy and moral crisis of our era, embedding with the men, women and children whose lives were torn apart by the Syrian civil war…No Turning Back works both on the level of deeply reported personal narratives of a tragedy that continues to unspool and also as a major work of history.

— Peter Bergen, author of United States of Jihad and Manhunt: The Ten Year Search for Bin Laden

In No Turning Back, Rania Abouzeid brings you up close and personal to the men and women who led the uprising in Syria. Abouzeid understands these people so well and her writing is so vivid that they practically jump off the page with all their dreams, ideals, and misplaced optimism. After No Turning Back, you won't be able to hear anything more about Syria without feeling that you too know the people who are living (and dying) through it.

— Barbara Demick, author of Nothing to Envy: Ordinary Lives in North Korea and Logavina Street: Life and Death in a Sarajevo Neighborhood

No Turning Back is a monumental achievement. I can think of few other journalists, past or present, who have reported on any war as courageously, analyzed it as trenchantly, or rendered the lives of its participants and victims as movingly, as Abouzeid has done here for the war in Syria. The book will no doubt endure as a work of literature. But that is incidental. Right now it is an urgent and devastating dispatch from the world as it is.

— Luke Mogelson, National Magazine Award-winning journalist

A fabulous and illuminating account of the Syrian conflict told by a world-class journalist at the height of her powers. This is about real people, their real stories and how they web together to tell the wider story of a nation in crisis. A rich and rewarding book that informs, excites and inspires. A truly first-class piece of high-end reportage.
— Tim Butcher, author of The Trigger, Blood River, and Chasing the Devil

Rania Abouzeid has not just written a powerful human story of the most tangled war of our time. This is journalism at its very best: brave; personal; written with aching beauty. She has rewritten history's first draft with great authority.
— Lyse Doucet, BBC presenter and chief international correspondent

Weaving together the
lives of mothers and sons, fighters and civilians, the oppressors and the
oppressed in one epic journey, Rania tells the story of a nation in the grips
of revolution and social upheaval. From the initial feeling of hope to the
ultimate struggle for survival, this is an essential read not only for those
interested in Syria and the Middle East, but for anyone who strives to
understand the mechanics of a society torn by civil war.
— Ghaith Abdul-Ahad, Middle East correspondent, Guardian
W. W. Norton & Company, 9780393609493, 400pp.
Publication Date: March 13, 2018
About the Author
Rania Abouzeid has won the Michael Kelly Award and George Polk Award for foreign reporting, among many other prizes for international journalism. She has written for The New Yorker, Time, Foreign Affairs, Politico, the Guardian, and the Los Angeles Times. A former New America fellow, she lives in Beirut, Lebanon.
Coverage from NPR
or
Not Currently Available for Direct Purchase