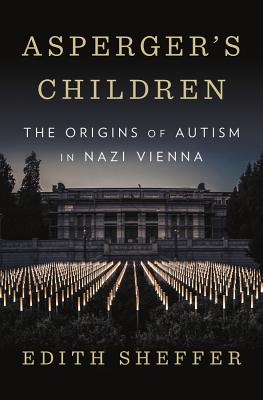 Asperger's Children
The Origins of Autism in Nazi Vienna
Hardcover

* Individual store prices may vary.
Other Editions of This Title:
Digital Audiobook (7/2/2018)
Paperback (3/10/2020)
Library Binding, Large Print (10/1/2018)
Compact Disc (7/3/2018)
MP3 CD (7/3/2018)
Description
Shortlisted for the 2019 Mark Lynton History Prize



A groundbreaking exploration of the chilling history behind an increasingly common diagnosis.
Hans Asperger, the pioneer of autism and Asperger syndrome in Nazi Vienna, has been celebrated for his compassionate defense of children with disabilities. But in this groundbreaking book, prize-winning historian Edith Sheffer exposes that Asperger was not only involved in the racial policies of Hitler's Third Reich, he was complicit in the murder of children.
As the Nazi regime slaughtered millions across Europe during World War Two, it sorted people according to race, religion, behavior, and physical condition for either treatment or elimination. Nazi psychiatrists targeted children with different kinds of minds—especially those thought to lack social skills—claiming the Reich had no place for them. Asperger and his colleagues endeavored to mold certain "autistic" children into productive citizens, while transferring others they deemed untreatable to Spiegelgrund, one of the Reich's deadliest child-killing centers.
In the first comprehensive history of the links between autism and Nazism, Sheffer uncovers how a diagnosis common today emerged from the atrocities of the Third Reich. With vivid storytelling and wide-ranging research, Asperger's Children will move readers to rethink how societies assess, label, and treat those diagnosed with disabilities.
Praise For Asperger's Children: The Origins of Autism in Nazi Vienna…
[Edith Sheffer] shows how the Third Reich's obsession with categories and labels was inextricable from its murderousness; what at first seems to be a book about Dr. Hans Asperger and the children he treated ends up tracing the sprawling documentary record of a monstrous machine…Sheffer has built an impressive case.
— Jennifer Szalai - New York Times

Asperger's Children should be read by any student of psychology, psychiatry or medicine, so that we learn from history and do not repeat its terrifying mistakes. The revelations in this book are a chilling reminder that the highest priority in both clinical research and practice must be compassion.

— Simon Baron-Cohen - Nature

A superbly researched account…It's hard to believe that anyone will want to identify with Asperger syndrome after reading Sheffer's extremely disturbing but very lucid book.
— Saskia Baron - Guardian

An impassioned indictment, one that glows with the heat of a prosecution motivated by an ethical imperative...Sheffer dramatically incorporates the voices of the few children who survived the sadistic terrors of the psychiatric regime.
— Lisa Appignanesi - New York Review of Books

[Sheffer] writes with extraordinary sensitivity and an understated grace. A historian of Germany and modern Europe, Sheffer's research is meticulous and wide-ranging.
— Kate Tuttle - Los Angeles Times

An absolutely terrifying and fascinating book.
— Steve Almond - NPR

As Sheffer suggests at the end of her searing, wonderfully written book, the least that can be done to honour the memory of those children killed in his name is to excise it from popular use.
— Dominic Lawson - The Sunday Times

This superbly researched book is an important contribution to our understanding of attitudes to autism, and to our knowledge of one of the very darkest episodes in recent human history.
— Telegraph

This book is sensational, although its author does not seek sensation. It is a careful work of history, connecting the career of a physician with the intellectual, medical, and political contexts of Austria in the 1930s and 1940s. That world is not our world, but the connections, the habits of mind, speech, diagnosis, are more powerful than we think. 
In restoring history to psychology, Sheffer helps us to understand why we classify our children the way we do, and helps us to ask, as we must, just what kind of world we are making for them.
— Timothy Snyder, author of On Tyranny and Bloodlands

Meticulously documented, and chilling in its detail, Asperger's Children reveals the consequences of the most extreme abuses of clinical power and authority. In the current age of neurodiversity, this essential work will help to ensure that the human rights of people with disabilities will never be disregarded again.

— Barry M. Prizant, PhD, author of Uniquely Human: A Different Way of Seeing Autism

This revealing book is magnificently written and researched; it also reflects profound thinking about the origins of autism in medical, historical, and cultural terms.
— Norman M. Naimark, author of Genocide: A World History

In what will now be considered the definitive study of Asperger and his relationship to the most nefarious aspects of Nazi eugenics, one of our most original historians has laid out the case against our idealizing of any physician without truly understanding their embeddedness in the complex scientific and political world of their time. An important, well-written, and extremely timely book.
— Sander L. Gilman, author of Seeing the Insane

This gripping book is a valuable contribution to the relatively neglected history of Austria in the Third Reich, and perhaps more important, to the inadequacies of medical diagnosis.
— Michael Burleigh, author of The Third Reich: A New History and The Best of Times, The Worst of Times: A History of Now

Asperger's Children brings conceptual clarity and badly needed historical depth to a contemporary topic of ever-widening resonance and concern. Her careful and illuminating treatment deserves the fullest of public attention.

— Geoff Eley, Karl Pohrt Distinguished University Professor of Contemporary History at University of Michigan and author of Nazism as Fascism

A revelatory, haunting biography of a gifted practitioner who chose to fall in line with the Nazi regime and the far-reaching consequences of that choice, for his own patients and for those still using and being labeled with the diagnostic concepts he originated.
— Publishers Weekly (starred review)
W. W. Norton & Company, 9780393609646, 320pp.
Publication Date: May 1, 2018
About the Author
Edith Sheffer is a historian of Germany and central Europe, and a senior fellow at the Institute of European Studies at the University of California, Berkeley. She is the author of the prize-winning Burned Bridge: How East and West Germans Made the Iron Curtain.
or
Not Currently Available for Direct Purchase