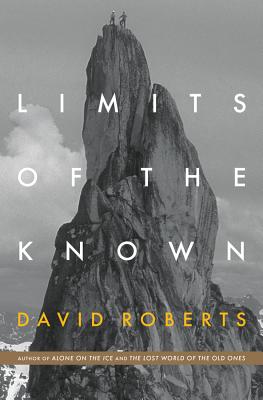 Limits of the Known (Hardcover)
W. W. Norton & Company, 9780393609868, 336pp.
Publication Date: February 20, 2018
Other Editions of This Title:
Paperback (2/26/2019)
* Individual store prices may vary.
Description
A Finalist for the 2019 PEN/ESPN Award for Literary Sports Writing



A celebrated mountaineer and author searches for meaning in great adventures and explorations, past and present.
David Roberts, "veteran mountain climber and chronicler of adventures" (Washington Post), has spent his career documenting voyages to the most extreme landscapes on earth. In Limits of the Known, he reflects on humanity's—and his own—relationship to extreme risk. Part memoir and part history, this book tries to make sense of why so many have committed their lives to the desperate pursuit of adventure.
In the wake of his diagnosis with throat cancer, Roberts seeks answers with sharp new urgency. He explores his own lifelong commitment to adventuring, as well as the cultural contributions of explorers throughout history: What specific forms of courage and commitment did it take for Fridtjof Nansen to survive an eighteen-month journey from a record "farthest north" with no supplies and a single rifle during his polar expedition of 1893–96? What compelled Eric Shipton to return, five times, to the ridges of Mt. Everest, plotting the mountain's most treacherous territory years before Hillary and Tenzing's famous ascent? What drove Bill Stone to dive 3,000 feet underground into North America's deepest cave?
What motivates the explorers we most admire, who are willing to embark on perilous journeys and push the limits of the human body? And what is the future of adventure in a world we have mapped and trodden from end to end?
About the Author
David Roberts is the award-winning author of thirty books about mountaineering, exploration, and anthropology. His recent book Alone on the Wall, coauthored with rock climber Alex Honnold, was the basis for the Oscar-winning film Free Solo. He lives in Watertown, Massachusetts.
Praise For Limits of the Known…
If you've run out of Saint-Exupéry and miss the eloquent power of his work, then you are ready to read David Roberts.
— Laurence Gonzales

A beautiful contribution by legendary climber/author David Roberts. ... [C]ompelling and honest.

[G]ripping … uplifting.

A beautiful treatise on the extremes humans will go to in order better to understand ourselves and the world we live in for such a brief time.

Roberts is at home in libraries as he is on summits…A book for anyone who appreciates good adventure writing.

Roberts conveys the exhilaration and vitality of adventuring as well as the agony and anger of a cancer diagnosis with equal aplomb, making for a moving narrative that speaks to the glories of the human spirit and the limitations of the human body.

Roberts writes with a journalistic eye, looking at younger versions of himself as though they were people to be understood. In the end, his book is about rediscovering himself, even as he faces a frightening reminder of his own mortality. A unique combination of penetrating self-analysis and armchair travel.

[Roberts'] engrossing writing and gripping adventure stories will appeal to outdoors and history enthusiasts.