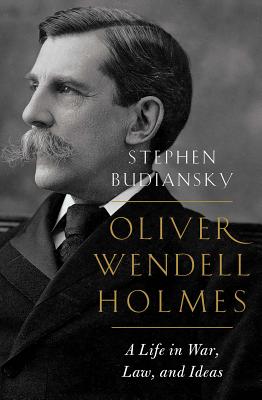 Oliver Wendell Holmes
A Life in War, Law, and Ideas
Hardcover

* Individual store prices may vary.
Other Editions of This Title:
Digital Audiobook (5/27/2019)
Paperback (6/2/2020)
Description
The extraordinary story of the U.S. Supreme Court's most influential justice.
Oliver Wendell Holmes twice escaped death as a young Union officer in the Civil War when musket balls missed his heart and spinal cord by a fraction of an inch at the Battles of Ball's Bluff and Antietam. He lived ever after with unwavering moral courage, unremitting scorn for dogma, and an insatiable intellectual curiosity.
Named to the Supreme Court by Theodore Roosevelt at age sixty-one, he served for nearly three decades, writing a series of famous, eloquent, and often dissenting opinions that would prove prophetic in securing freedom of speech, protecting the rights of criminal defendants, and ending the Court's reactionary resistance to social and economic reforms.
As a pioneering legal scholar, Holmes revolutionized the understanding of common law by showing how the law always evolved to meet the changing needs of society. As an enthusiastic friend and indefatigable correspondent, he wrote thousands of personal letters brimming with humorous philosophical insights, trenchant comments on the current scene, and an abiding joy in fighting the good fight.
Drawing on many previously unpublished letters and records, Stephen Budiansky's definitive biography offers the fullest portrait yet of this pivotal American figure, whose zest for life, wit, and intellect left a profound legacy in law and Constitutional rights, and who was an inspiring example of how to lead a meaningful life in a world of uncertainty and upheaval.
Praise For Oliver Wendell Holmes: A Life in War, Law, and Ideas…
Lively and engaging....At a time when progressives and conservatives alike are so sure of their own premises that America is more polarized than at any time since the Civil War, the 'skeptical humility,' as Budiansky puts it, that Holmes took from the war seems more elusive, and more urgently needed, than ever.
— Jeffrey Rosen - Washington Post

Budiansky's account shines....Interlaces insightful discussion of his jurisprudence with touching portraits of Holmes's devotion to his wife, Fanny; famous friends like Louis Brandeis; and less famous friends like Henry Abbott....Budiansky writes with admirable lucidity.
— Adam J. White - Wall Street Journal

A lively, accessible book.
— Noah Feldman - New York Times Book Review

Consistently gripping reading....possessed of a zest and omnivorous curiosity that reflects the boundless energy of its subject.
— Steve Donoghue - Christian Science Monitor

Discriminating, genial, and admiring.
— Brenda Winapple - The Nation

Especially consequential....Budiansky's is now the most engrossing of the major Holmes biographies.
— Lincoln Caplan - Harvard Magazine

The longevity and complexity of Holmes's life and judicial philosophy present a formidable challenge to a biographer. Stephen Budiansky has met that challenge in distinguished fashion. Weaving together Holmes's private and public lives with a clarity that reveals what had often seemed obscure in previous biographies, this book also shows how Holmes's experience as a thrice-wounded Civil War officer subtly shaped his social and juridical ideas during the next seventy years.
— James M. McPherson, author of Battle Cry of Freedom: The Civil War Era

Stephen Budiansky's Oliver Wendell Holmes portrays the ultimate giant of American law and intellectual history. In this stunningly researched and compellingly written biography Budiansky brings Holmes back to life. This is an astonishing look at what made our native jurisprudence genius tick. Highly recommended!

— Douglas Brinkley, author of The Wilderness Warrior and Katherine Tsanoff Brown Chair of Humanities and professor of history at Rice University

A lively and informative portrait of the great justice.
— Robert C. Post, Sterling Professor of Law, Yale Law School

With insight and panache....Budiansky paints a nuanced picture of this exceptionally influential judge....Makes a dry life of the mind into a lively life of a man, and a very appealing one at that....A winner from start to finish, this is a natural fit for anyone who enjoys history or biography.
— Library Journal (starred review)
W. W. Norton & Company, 9780393634723, 592pp.
Publication Date: May 28, 2019
About the Author
Stephen Budiansky is a historian, biographer, and journalist whose writing has appeared in the Atlantic, New York Times, Wall Street Journal, and Washington Post. A recipient of the Guggenheim Fellowship, he resides in Loudoun County, Virginia.
or
Not Currently Available for Direct Purchase