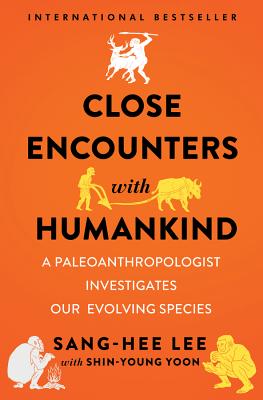 Close Encounters with Humankind
A Paleoanthropologist Investigates Our Evolving Species
Hardcover

* Individual store prices may vary.
Other Editions of This Title:
Paperback (3/19/2019)
Compact Disc (2/20/2018)
Compact Disc (2/20/2018)
MP3 CD (2/20/2018)
Description
One of Smithsonian's Ten Best Science Books of 2018



In this captivating bestseller, Korea's first paleoanthropologist offers fresh insights into humanity's dawn and evolution.
What can fossilized teeth tell us about the life expectancy of our ancient ancestors? How did farming play a problematic role in the history of human evolution? How can simple geometric comparisons of skull and pelvic fossils suggest a possible origin to our social nature? And what do we truly have in common with the Neanderthals? In this captivating international bestseller, Close Encounters with Humankind, Korea's first paleoanthropologist, Sang-Hee Lee, explores some of our greatest evolutionary questions from new and unexpected angles.
Through a series of entertaining, bite-sized chapters, we gain fresh perspectives into our first hominin ancestors and ways to challenge perceptions about the traditional progression of evolution. By combining anthropological insight with exciting, cutting-edge research, Lee's surprising conclusions shed new light on our beginnings and connect us to a faraway past. For example, our big brains may have served to set our species apart and spur our societal development, but perhaps not in the ways we have often assumed. And it's possible that the Neanderthals, our infamous ancestors, were not the primitive beings portrayed by twentieth-century science. With Lee as our guide, we discover that from our first steps on two feet to our first forays into toolmaking and early formations of community, we have always been a species of continuous change.
Close Encounters with Humankind is the perfect read for anyone curious about where we came from and what it took to get us here. As we mine the evolutionary path to the present, Lee helps us to determine where we are heading and tackles one of our most pressing scientific questions—does humanity continue to evolve?
Praise For Close Encounters with Humankind: A Paleoanthropologist Investigates Our Evolving Species…
Humans walk upright, possess giant brains, have nearly hairless skin, and live exceptionally long lives. How did we come to be such peculiar primates? Sang-Hee Lee tackles this question with aplomb. Deftly weaving together science and personal observation, Lee proves an engaging, authoritative guide on this nickel tour of the human condition.
— Kate Wong - Scientific American

Succinctly and engagingly, Lee revisits key questions about the story of our evolving species—and gives some unconventional answers.
— Nature

Lee, a paleoanthropologist, tells us much about our evolutionary origins by sorting through our ancestors' mortal remains.
— New York Times, New & Noteworthy

An exceptionally reader-friendly introduction to human evolution… Highly accessible, consistently interesting popular science writing.
— Kirkus (starrred review)

I have struggled for years to find reading materials that cover the basics of human evolution without overwhelming students with dry, technical minutiae. At last, a book that does this! This book will appeal not only to students, but to anyone who is curious about the world.
— Dean Falk, coauthor of Geeks, Genes, and the Evolution of Asperger Syndrome

Lee uses quick-take chapters and a congenial tone to give us an overview of what paleoanthropology has discovered and how it works... Think of it as visiting some really old friends. 
— Library Journal

Close Encounters with Humankind is a terrific introduction to the story of human evolution for someone who is just beginning to explore the field, but even those familiar with the material will find a lot of new information here. I congratulate Sang-Hee Lee for writing an appealing, factual, and entertaining book on the ever-fascinating topic of human evolutionary history.

— Wenda Trevathan, author of Ancient Bodies, Modern Lives: How Evolution Shaped Women's Health

Close Encounters with Humankind is a delightful book full of memorable stories that reveal deep truths and penetrating mysteries about our past. What a fun way to explore the origins of our strange human ways.

— Nathan H. Lents, The Human Evolution Blog and Professor, John Jay College

Sang-Hee Lee has posed some of the big questions in human evolution and has written brief, clear, and jargon-free essays about them. Her informal, clear style and commonsense explanations are delightful and engaging. Brava!
— Pat Shipman, Professor of Anthropology and author of The Invaders

In this insightful collection, Sang-Hee Lee shows herself to be a gifted storyteller, breathing new life into the old bones, with both the intimate knowledge of a practitioner and a dose of cross-cultural scientific sensitivity. A pleasure to read!
— Jonathan Marks, Professor of Anthropology and author of Tales of the Ex-Apes

A breath of fresh air for palaeoanthropology. Lee navigates difficult topics expertly, weaving complex ideas like fore and couvade into her light narrative style. From cannibals to art to 'hobbits', Close Encounters covers an impressive array of topics that will interest anyone fascinated by how we became human.

— Kristina Killgrove, Assistant Professor, University of West Florida
W. W. Norton & Company, 9780393634822, 304pp.
Publication Date: February 20, 2018
About the Author
Sang-Hee Lee is a professor of anthropology and associate dean of the college of humanities, arts, and social sciences at UC Riverside, and lives in Riverside, California. She earned her MA and PhD in anthropology from the University of Michigan.