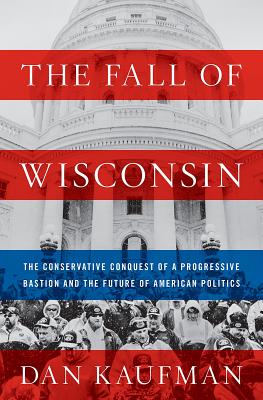 The Fall of Wisconsin
The Conservative Conquest of a Progressive Bastion and the Future of American Politics
Hardcover

* Individual store prices may vary.
Other Editions of This Title:
Paperback (7/9/2019)
MP3 CD (2/12/2019)
Description
National Bestseller
The untold story behind the most shocking political upheaval in the country.
For more than a century, Wisconsin has been known nationwide for its progressive ideas and government. It famously served as a "laboratory of democracy," a cradle of the labor and environmental movements, and birthplace of the Wisconsin Idea, which championed expertise in the service of the common good. But following a Republican sweep of the state's government in 2010, Wisconsin's political heritage was overturned, and the state went Republican for the first time in three decades in the 2016 presidential election, elevating Donald J. Trump to the presidency.
The Fall of Wisconsin is a deeply reported, searing account of how the state's progressive tradition was undone and turned into a model for national conservatives bent on remaking the country. Dan Kaufman, a Wisconsin native who has been covering the story for several years, traces the history of progressivism that made Wisconsin so widely admired, from the work of celebrated politicians like Robert "Fighting Bob" La Follette and Gaylord Nelson, to local traditions like Milwaukee's "sewer socialism," to the conservationist ideas of Aldo Leopold and the state's Native American tribes. Kaufman reveals how the "divide-and-conquer" strategy of Governor Scott Walker and his allies pitted Wisconsin's citizens against one another so powerful corporations and wealthy donors could effectively take control of state government. As a result, laws protecting voting rights, labor unions, the environment, and public education were rapidly dismantled.
Neither sentimental nor despairing, Kaufman also chronicles the remarkable efforts of citizens who are fighting to reclaim Wisconsin's progressive legacy against tremendous odds: Chris Taylor, a Democratic assemblywoman exposing the national conservative infrastructure, Mike Wiggins, the head of a Chippewa tribe battling an out-of-state mining company, and Randy Bryce, the ironworker whose long-shot challenge to Speaker of the House Paul Ryan has galvanized national resistance to Trump.
Praise For The Fall of Wisconsin: The Conservative Conquest of a Progressive Bastion and the Future of American Politics…
Through the microcosm of one state Dan Kaufman does a masterful job explaining what's happened to America, and why. It's not a happy tale, but it's an important one.
— Jane Mayer, best-selling author of Dark Money

Full of sharply reported details…[The Fall of Wisconsin] laments the state's recent trajectory and chronicles 'the conservative war' on its political legacy.

— Michael O'Donnell - New York Times Book Review

Kaufman argues that what's been happening in Wisconsin has historical significance because it made the state a model for conservative activists…[The Fall of Wisconsin] belongs with well-known recent studies such as J.D. Vance's Hillbilly Elegy and Arlie Russell Hochschild's Strangers in Their Own Land.

— Ron Elving - NPR

In The Fall of Wisconsin, Dan Kaufman shows how the state became a conservative test case…Clean air, clean water, good schools: The public infrastructure that was considered common sense for Wisconsinites has been attacked by the right as if it were a red menace…Kaufman believes that Wisconsin's extreme makeover portends something scary for the rest of us.

— Jennifer Szalai - The New York Times

Kaufman burrows badgerlike into the politics of America's Dairyland, unearthing the personal histories of its people: an ironworker turned activist, a conservation biologist, a Native American tribal elder. In doing so, he reveals Wisconsin's transformation from a 'pioneering beacon' of progressive policies, responsible for the nation's first worker's-comp and unemployment-insurance programs, to 'a laboratory for corporate interests.'
— Michelle Hart - O, the Oprah Magazine

What was the matter with Kansas is now the matter with Wisconsin. Once one of the most liberal states in the union, on election night 2016 Wisconsin was the state that put Trump over the top. How did such a big change happen, and what should we do about it? For starters, read this book—and let these agonizingly true stories sink in.
— Thomas Frank, best-selling author of What's the Matter with Kansas?

Dan Kaufman chronicles how his home state—the birthplace of progressivism, Aldo Leopold's land ethic, and Earth Day—was transformed into a showcase for right-wing ideology. The Fall of Wisconsin is illuminating, unsettling, and profoundly relevant.

— Elizabeth Kolbert, best-selling author of The Sixth Extinction

Dan Kaufman, a native son, will take you deeper into this story than I would have thought possible. Tirelessly reported, full of heroes and their tormentors, it's a devastating portrait of a beautiful, besieged state reeling into the Trump era.
— William Finnegan, best-selling author of Barbarian Days

The Fall of Wisconsin shows that the most important story in American politics was hiding in plain sight—how the progressive bastion of the upper Midwest turned into Alabama-with-snow. With elegant ferocity, Dan Kaufman tells a story that is rooted in the soul of Wisconsin but relevant to the whole country as well.

— Jeffrey Toobin, best-selling author of American Heiress
W. W. Norton & Company, 9780393635201, 336pp.
Publication Date: July 10, 2018
About the Author
Dan Kaufman has written for The New York Times Magazine and The New Yorker. Originally from Wisconsin, he now lives in Brooklyn with his wife and son.
Coverage from NPR
or
Not Currently Available for Direct Purchase