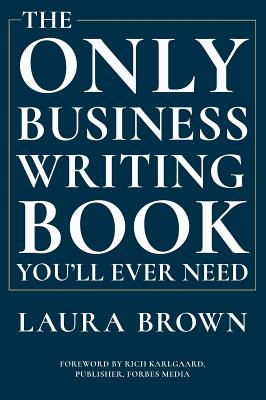 The Only Business Writing Book You'll Ever Need
Hardcover

* Individual store prices may vary.
Description
A must-have guide for writing at work, with practical applications for getting your point across quickly, coherently, and efficiently.
A winning combination of how-to guide and reference work, The Only Business Writing Book You'll Ever Need addresses a wide-ranging spectrum of business communication with its straightforward seven-step method. These easy-to-follow steps save you time from start to finish, and helpful checklists will boost your confidence as they keep you on track. You'll learn to promote yourself and your ideas clearly and concisely—whether putting together a persuasive project proposal or dealing with daily email.
Laura Brown's supportive, no-nonsense approach to business writing is thoughtfully adapted to the increasingly digital corporate landscape. She provides practical tips and comprehensive examples for all the most popular forms of communication, including slide presentations, résumés, cover letters, web copy, and a thorough guide to the art of crafting e-mails and instant messages. Insightful sidebars from experts in various fields demystify the skills of self-editing, creating content, and overcoming writer's block, and Brown's reference-ready resources on style, punctuation, and grammar will keep your writing error-free.
Nuanced, personable, and of-the-moment, The Only Business Writing Book You'll Ever Need offers essential tools for success in the rapidly changing world of business communication.
Praise For The Only Business Writing Book You'll Ever Need…
All other guides to the critical skill of business writing may now be obsolete.
— Ming-Jer Chen, Fellow and former president, Academy of Management

Imagine…a world where every communication was clear, specific, and thoughtful. In this world, not only would every individual, team, and organization be more efficient, it would even be more pleasant to go to work! We can make that world a reality: all it will take is for everyone to follow the powerful advice that Laura Brown has pulled together in this practical and concise guide.
— Alan Iny, coauthor of Thinking in New Boxes

Writing at work is more important than it's ever been, and the stakes are higher. The Only Business Writing Book You'll Ever Need offers individuals and organizations the help they need to communicate clearly and efficiently in writing.

— Anita Gupta, global head of communications, Deutsche Post DHL

In this brilliant book, Laura Brown offers executives the essential principles of communication—whether e-mail, keynote speech, project proposal, or social media. Use them wisely—to lay out your vision, clinch the next job, build relationships, or make your big ask. You'll be amazed by the results.
— David L. Rogers, author of The Digital Transformation Playbook

Effective communication is one of the keys to success in business. Laura Brown's book provides any student, manager, CEO, or board member the tools to write successfully.
— Robert C. Daugherty, executive dean, Forbes School of Business

Laura Brown gives us seven steps to help become instantly more effective, including: how to make a clear ask, write for the reader, start strong and specific. She also gives examples for effective e-mail, thank-you notes, apologies, performance reviews, and termination letters. This is a resource business owners should not be without!
— Barry Moltz, host of The Small Business Radio Show

If you're writing anything, from an internal memo to a New York Times bestseller, keep The Only Business Writing Book You'll Ever Need next to your laptop. Your readers will thank you.

— Michael Snell, president and CEO, The Michael Snell Literary Agency

This one-stop handbook on business writing covers everything you need to learn and do in a simple and practical manner. And it is fun to read!
— Bernd Schmitt, professor, Columbia Business School

Practical, relevant, clear, and concise strategies that are applicable and meaningful to students and working professionals.
— Andrew Shean, chief academic officer, National University System Online
W. W. Norton & Company, 9780393635324, 272pp.
Publication Date: January 29, 2019
About the Author
Laura Brown, PhD, has taught writing to just about everyone—from corporate executives to college students—in her thirty years as a business writing coach. The author of The Only Business Writing Book You'll Ever Need and How to Write Anything: A Complete Guide, she lives in New York.