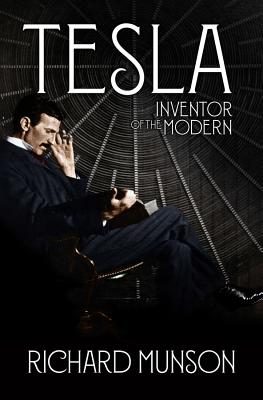 Tesla
Inventor of the Modern
Hardcover

* Individual store prices may vary.
Other Editions of This Title:
Paperback (10/15/2019)
Compact Disc (6/19/2018)
Compact Disc (6/19/2018)
MP3 CD (6/19/2018)
Hardcover, Chinese (6/18/2019)
Description
Tesla's inventions transformed our world, and his visions have continued to inspire great minds for generations.
Nikola Tesla invented the radio, robots, and remote control. His electric induction motors run our appliances and factories, yet he has been largely overlooked by history. In Tesla, Richard Munson presents a comprehensive portrait of this farsighted and underappreciated mastermind.
When his first breakthrough—alternating current, the basis of the electric grid—pitted him against Thomas Edison's direct-current empire, Tesla's superior technology prevailed. Unfortunately, he had little business sense and could not capitalize on this success. His most advanced ideas went unrecognized for decades: forty years in the case of the radio patent, longer still for his ideas on laser beam technology. Although penniless during his later years, he never stopped imagining. In the early 1900s, he designed plans for cell phones, the Internet, death-ray weapons, and interstellar communications. His ideas have lived on to shape the modern economy.
Who was this genius? Drawing on letters, technical notebooks, and other primary sources, Munson pieces together the magnificently bizarre personal life and mental habits of the enigmatic inventor. Born during a lightning storm at midnight, Tesla died alone in a New York City hotel. He was an acute germaphobe who never shook hands and required nine napkins when he sat down to dinner. Strikingly handsome and impeccably dressed, he spoke eight languages and could recite entire books from memory. Yet Tesla's most famous inventions were not the product of fastidiousness or linear thought but of a mind fueled by both the humanities and sciences: he conceived the induction motor while walking through a park and reciting Goethe's Faust.
Tesla worked tirelessly to offer electric power to the world, to introduce automatons that would reduce life's drudgery, and to develop machines that might one day abolish war. His story is a reminder that technology can transcend the marketplace and that profit is not the only motivation for invention. This clear, authoritative, and highly readable biography takes account of all phases of Tesla's remarkable life.
Praise For Tesla: Inventor of the Modern…
Penetrating … Munson makes vivid the genius's eventful life.
— Nature

An entertaining, sympathetic glimpse into the life of the under-appreciated genius.
— Washington Independent Review of Books

A well-written, insightful addition to the legacy of this still-underappreciated visionary genius.
— Booklist

A lucid, expertly researched biography of the brilliant Nikola Tesla.
— Kirkus (starred review)

Entrepreneurs, inventors, engineers, and futurists will find this biography inspiring.
— Library Journal

Nikola Tesla, though one of the great heroes of recent history, is rarely given his due. In this book Munson brings Tesla to life, not as a superhero but as a man. His inventions, fortitude, and foibles are explained in clear and accessible language so that nonspecialists can easily understand what distinguished his undertakings from those of his peers and competitors. Late nineteenth and early twentieth century America comes to life as Tesla makes his way through it, inventing it (literally) as it also shapes him. Without Tesla's work, we would scarcely recognize our world.
— Gretchen Bakke, professor of anthropology at Humboldt University and author of The Grid: The Fraying Wires Between Americans and Our Energy Future

Tesla is an exactingly researched history and wonderfully crafted tale of one of the most important and fascinating visionaries of the technological age. Tesla's inventiveness spans the second and third industrial revolutions. As the genius behind alternating-current electrical transmission and the electric system, he created the foundational infrastructure for the twentieth-century economy. As a pioneer visionary behind wireless communications technology, his legacy helped establish the framework for the digital age. This is an important narrative for what it reveals about the culture of inventiveness. Its teachings have never been more relevant than in today's world of digital transformation.

— Anne Pramaggiore, CEO and president of Commonwealth Edison Company (ComEd)
W. W. Norton & Company, 9780393635447, 320pp.
Publication Date: May 22, 2018
About the Author
Richard Munson is the author of several books, including From Edison to Enron and Cousteau: The Captain and His World. Based in Chicago, Illinois, he directs Environmental Defense Fund's clean-energy efforts in the Midwest.
or
Not Currently Available for Direct Purchase