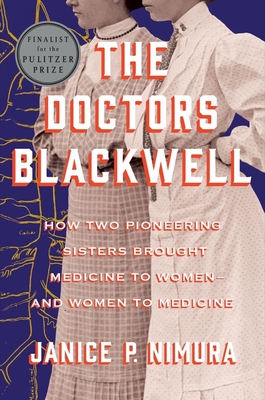 The Doctors Blackwell (Hardcover)
How Two Pioneering Sisters Brought Medicine to Women and Women to Medicine
W. W. Norton & Company, 9780393635546, 352pp.
Publication Date: January 19, 2021
* Individual store prices may vary.
Description
"Deftly, with a keen eye, Janice P. Nimura has resurrected Elizabeth and Emily Blackwell in all their feisty, thrilling, trailblazing splendor."—Stacy Schiff
The world recoiled at the notion of a woman doctor, yet Elizabeth Blackwell persisted—in 1849, she became the first woman in America to receive an MD. Her achievement made her an icon—"I am convinced that a new & nobler era is dawning, for Medicine," she wrote—but her sister Emily, eternally eclipsed, was the more brilliant physician. Together they founded the first hospital staffed entirely by women, in New York City.
Both sisters were tenacious and visionary, but their convictions did not always align with the emergence of women's rights—or with each other. "Doubt is disease," Elizabeth insisted. They prevailed against fierce resistance from the male establishment, moving among Britain, France, and America during a tumultuous time of scientific discovery and civil war. This major new biography celebrates two complicated pioneers who exploded the limits of possibility. As Elizabeth predicted, "a hundred years hence, women will not be what they are now."
About the Author
Janice P. Nimura is the winner of a 2017 National Endowment for the Humanities Public Scholar award and the author of Daughters of the Samurai: A Journey from East to West and Back, a New York Times Notable Book. She lives in New York City.
Praise For The Doctors Blackwell: How Two Pioneering Sisters Brought Medicine to Women and Women to Medicine…
'I wish some skillful pen would produce an interesting old maid's life,' sighed 17-year-old Elizabeth Blackwell in 1838, at a time when that idea was as much a contradiction in terms as "female physician." Janice Nimura has splendidly granted the adolescent wish. Deftly, with a keen eye, she has resurrected Blackwell and her physician sister Emily in all their feisty, thrilling, trailblazing splendor.
— Stacy Schiff, author of The Witches

The Blackwell sisters took on the medical establishment and won. They are heroines, not just of their time, but for every age. Their incredible story has been crying out to be told, and in Janice Nimura they have the ideal biographer. The Blackwell's live and triumph again.
— Dr. Amanda Foreman, author of The Duchess

Janice Nimura has gifted us with more than a splendid history of the Blackwell sisters. Gripping, vividly written, and moving, it is also a surprisingly timely history of the misogynist, limited, still evolving Anglo-American medical profession.
— Blanche Wiesen Cook, author of Eleanor Rosevelt: Volume I-III

All doctors and all patients owe a debt to these eccentric determined brilliant characters, Elizabeth and Emily Blackwell, who found their way across the strange and bloody landscape of nineteenth-century medicine, and transformed it forever, all brilliantly conjured in Janice Nimura's wonderful book.
— Dr. Perri Klass, author of A Good Time to be Born