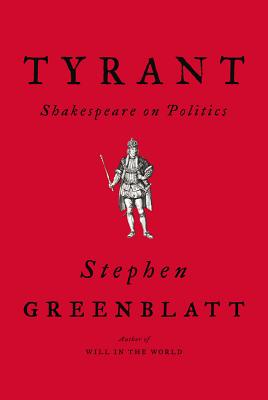 Tyrant
Shakespeare on Politics
Hardcover

* Individual store prices may vary.
Other Editions of This Title:
Digital Audiobook (5/7/2018)
Paperback (5/14/2019)
Description
World-renowned Shakespeare scholar Stephen Greenblatt explores the playwright's insight into bad (and often mad) rulers.
As an aging, tenacious Elizabeth I clung to power, a talented playwright probed the social causes, the psychological roots, and the twisted consequences of tyranny. In exploring the psyche (and psychoses) of the likes of Richard III, Macbeth, Lear, Coriolanus, and the societies they rule over, Stephen Greenblatt illuminates the ways in which William Shakespeare delved into the lust for absolute power and the catastrophic consequences of its execution.
Cherished institutions seem fragile, political classes are in disarray, economic misery fuels populist anger, people knowingly accept being lied to, partisan rancor dominates, spectacular indecency rules—these aspects of a society in crisis fascinated Shakespeare and shaped some of his most memorable plays. With uncanny insight, he shone a spotlight on the infantile psychology and unquenchable narcissistic appetites of demagogues—and the cynicism and opportunism of the various enablers and hangers-on who surround them—and imagined how they might be stopped. As Greenblatt shows, Shakespeare's work, in this as in so many other ways, remains vitally relevant today.
Praise For Tyrant: Shakespeare on Politics…
Elegant and deftly written.
— Eliot A. Cohen - Washington Post

[Tyrant] is valuable less for what it has to say about Shakespeare's plays than for how it applies the wisdom it has acquired through careful study of these works to the crisis roiling American democracy.

— Charles McNulty - Los Angeles Times

Both the risk and the thrill of this rhetorical daring electrifies Tyrant. Shakespeare lived five centuries ago, yet Greenblatt's book has the feel of a series of urgent and very contemporary dispatches.

— Steve Donoghue - Christian Science Monitor

In this brilliant, beautifully organized, exceedingly readable study of Shakespeare's tyrants and their tyrannies—their dreadful narcissistic follies, their usurpations and their craziness and their cruelties, their arrogant incompetence, their paranoid viciousness, their falsehoods and their flattery hunger—Stephen Greenblatt manages to elucidate obliquely our own desperate (in Shakespeare's words) 'general woe.'
— Philip Roth

Tyrant is a striking literary feat. At the outset, the book notes how Shakespeare craftily commented on his own times by telling tales of tyrants from centuries before. In an act of scholarly daring, Greenblatt then proceeds to do exactly the same thing. Rarely have these blood-soaked creatures seemed so recognizably human and so contemporary.

— John Lithgow

An incisive and instructive study of personality politics and the abuse of power—topical literary criticism with classical virtues. 
— Kirkus Reviews

Offers a canny parallel to contemporary political concerns…Full of insight, both for lovers of literature and for students of history and politics.
— Publishers Weekly

Compelling literary history and analysis.
— Booklist

Even those who don't share Greenblatt's political perspective should find his well-informed survey of the making and unmaking of autocratic rulers to be instructive and entertaining. 
— Bookpage
W. W. Norton & Company, 9780393635751, 224pp.
Publication Date: May 8, 2018
About the Author
Stephen Greenblatt (Ph.D. Yale) is Cogan University Professor of the Humanities at Harvard University. Also General Editor of The Norton Anthology of English Literature, he is the author of eleven books, including Tyrant, The Rise and Fall of Adam and Eve: The Story that Created Us, The Swerve: How the World Became Modern (winner of the 2011 National Book Award and the 2012 Pulitzer Prize); Shakespeare's Freedom; Will in the World: How Shakespeare Became Shakespeare; Hamlet in Purgatory; Marvelous Possessions: The Wonder of the New World; Learning to Curse: Essays in Early Modern Culture; and Renaissance Self-Fashioning: From More to Shakespeare. He has edited seven collections of criticism, including Cultural Mobility: A Manifesto, and is a founding coeditor of the journal Representations. His honors include the MLA's James Russell Lowell Prize, for both Shakespearean Negotiations: The Circulation of Social Energy in Renaissance England and The Swerve, the Sapegno Prize, the Distinguished Humanist Award from the Mellon Foundation, the Wilbur Cross Medal from the Yale University Graduate School, the William Shakespeare Award for Classical Theatre, the Erasmus Institute Prize, two Guggenheim Fellowships, and the Distinguished Teaching Award from the University of California, Berkeley. He was president of the Modern Language Association of America and is a fellow of the American Academy of Arts and Sciences, the American Philosophical Society, and the American Academy of Arts and Letters.
Coverage from NPR