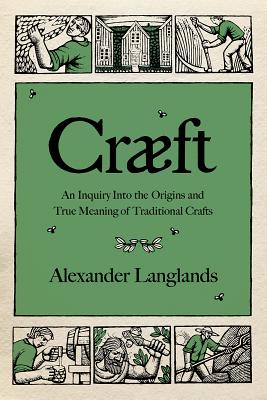 Cræft
An Inquiry Into the Origins and True Meaning of Traditional Crafts
Hardcover

* Individual store prices may vary.
Other Editions of This Title:
Paperback (1/15/2019)
Description
An archaeologist takes us into the ancient world of traditional crafts to uncover their deep, original histories.
In the midst of a seemingly endless supply of mass-manufactured products, we find ourselves nostalgic for products bearing the mark of authenticity—hand-made furniture, artisan breads, craft beers, and other goods produced by human hands. What often goes unnoticed is the transformation of our understanding of craft—or rather, craeft—in the wake of industrialization.
In Craeft, archaeologist and medieval historian Alexander Langlands argues that our modern understanding of craft only skims the surface. His journeys from his home in Wales have taken him along the Atlantic seaboard of Europe, from Spain through France and England to Scotland and Iceland in search of the lost meaning of craft. Reaching as far back as the Neolithic period, he combines deep history with scientific analyses and personal anecdotes. We follow the author as he herds sheep, keeps bees, tans hides, spins wool, and thatches roofs. We learn that scythes work much better on tall grass than the latest model of weed trimmers, that you can spin wool using a large wooden spoon, and that it was once considered criminal to work on animal hides before a requisite twelve-month soak.
When it first appeared in Old English, the word craeft signified an indefinable sense of knowledge, wisdom, and resourcefulness. Rediscovering craft will connect us with our human past, our sense of place, and our remarkable capacity to survive in the harshest of landscapes. Craeft helps us more fully appreciate human ingenuity and the passing on of traditions from generation to generation.
Praise For Cræft: An Inquiry Into the Origins and True Meaning of Traditional Crafts…
In Craeft, Mr. Langlands excavates the scintillating history of our truest super power: making clever things with our hands. This history is rife with real-life magic and affection, for our earth as well as one another. I am damn grateful for this book.

— Nick Offerman, author of Paddle Your Own Canoe and Good Clean Fun

I am in no way crafty, but this book had me yearning to thatch my own roof just to be in touch with the physical and attendant mental labor of putting something useful together.
— Pamela Paul, New York Times

Hypnotic... In reconnecting with craeft, [Langlands] begins to see not just the beauty of an object or a building or a landscape, but the deeper purpose for which each has been created. And he understands, too, the environment they shape and upon which they depend.... At a time where our disconnection from the world around us is not just tragic but downright dangerous, recovering our status as Homo faber, the species that makes things, may be our salvation.

— Michael Bierut - New York Times

Archaeologist and BBC presenter Alexander Langlands offers a fascinating and surprisingly relevant dive into a subject that might seem niche to many—the origins of traditional crafts in medieval Europe... Readers get a richly atmospheric peek into "craefts" like the thatching of roofs, the spinning of wool, and the tanning of hides... What Langlands is advocating for in his book is more widespread knowledge about the time when craft was integral to daily life. In the era he studies, activities like beekeeping weren't escapes from reality, but essential to it.
— The Atlantic

Using a combination of memoir, history and cultural commentary – in the first chapter Langlands has his own Poldark moment with a scythe – Langlands makes a coherent and enjoyable argument for 'not just a knowledge of making but a knowledge of being.'
— The Guardian

Whether it's the small-batch hot sauce or the rage for craft beer, today's consumer wants tradition, quality, and artisan everything. Langlands offers a fascinating history of what's setting trends today.
— Booklist

An engaging read imparting a wealth of historical knowledge with a touch of infotainment. With current interest in authentic arts and handmade goods, this unparalleled scholarly work will appeal to both specialists and casual readers. 
— Library Journal, starred

Alexander Langlands is spot-on: crafting isn't just about creating beautiful, useful objects. It's about reclaiming the knowledge, wisdom, and power that link us to the collective history of civilization. Craeft is what makes us human.

— Carleen Madigan, editor of The Backyard Homestead

Erudite, deftly argued, well written, and timely—Langlands weaves together the basic human desire to use our hands to make things with tradition, landscape, and the natural world. A delightful book that should be widely read.
— Robert Penn, author of The Man Who Made Things Out of Trees

Alex Langlands is probably the only person who could have written this wonderful book, drawing as it does upon his extraordinary combination of experiences as an archaeologist and as somebody who has actively learned such a huge range of the traditional crafts which he explains. This is literally heritage in action, and artistry which produces practical rewards.
— Ronald Hutton, professor of British history, Bristol University, and author of The Triumph of the Moon
W. W. Norton & Company, 9780393635904, 352pp.
Publication Date: January 2, 2018
About the Author
Alexander Langlands is a British archaeologist and medieval historian. He is a regular presenter for the BBC and teaches medieval history at Swansea University. He currently resides in Swansea, Wales.
or
Not Currently Available for Direct Purchase