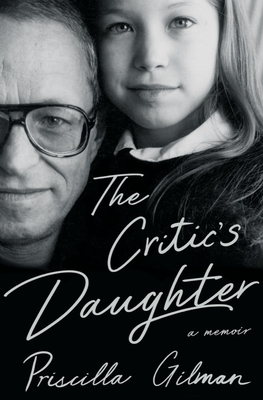 The Critic's Daughter
A Memoir
Hardcover

* Individual store prices may vary.
Description
An exquisitely rendered portrait of a unique father-daughter relationship and a moving memoir of family and identity.
Growing up on the Upper West Side of New York City in the 1970s, in an apartment filled with dazzling literary and artistic characters, Priscilla Gilman worshiped her brilliant, adoring, and mercurial father, the writer, theater critic, and Yale School of Drama professor Richard Gilman. But when Priscilla was ten years old, her mother, renowned literary agent Lynn Nesbit, abruptly announced that she was ending the marriage. The resulting cascade of disturbing revelations—about her parents' hollow marriage, her father's double life and tortured sexual identity—fundamentally changed Priscilla's perception of her father, as she attempted to protect him from the depression that had long shadowed him.
A wrenching story about what it means to be the daughter of a demanding parent, a revelatory window into the impact of divorce, and a searching reflection on the nature of art and criticism, The Critic's Daughter is an unflinching account of loss and grief—and a radiant testament of forgiveness and love.
Praise For The Critic's Daughter: A Memoir…
Passionate, resonant, and beautifully written…Evokes both a uniquely brilliant and troubled man and the poignantly relatable essence of the father-daughter connection.
— Kirkus Reviews (starred review)

The Critic's Daughter is an exquisite and rare example of how the memoir needs as much inventiveness in scope and form as our most lush fiction and poetry. Priscilla Gilman writes sentences I never see coming, and those sentences splinter into a textured model of how to write about—and through—art, perpetual discovery, and parenting. I've read few books in my life as skillfully executed and willfully conceived as The Critic's Daughter. This should not work. But my goodness, it just does.

— Kiese Laymon, author of Heavy

Beautiful: honest, raw, careful, soulful, brave and incredibly readable.
— Nick Hornby, author of Just Like You

The Critic's Daughter holds so many joys in store for you: The joy of disappearing into a finely crafted world—in this case, of Gilman's mind, heart, and personal history. The joy of encountering a text sprinkled with insights, like so many pearls. But most of all, the joy of basking in Priscilla Gilman's capacious love—for her father, for her family, and for you, her reader.

— Susan Cain, #1 New York Times bestselling author of Bittersweet and Quiet

The Critic's Daughter is first and foremost a very touching love story about a father, a daughter, and their unbreakable bond. Priscilla Gilman writes with eloquence and absolute candor of her late father Richard Gilman, the esteemed, brilliant, but deeply troubled drama and literary critic.… An unforgettable read, The Critic's Daughter is as entertaining as it is moving.

— James Lapine, Pulitzer Prize-winning playwright

The Critic's Daughter is an exquisite love song, a riveting story, a book for our time. Any daughter with a father, anyone who has been part of a family, anyone who has struggled with loving, anyone interested in literary criticism, or the theater, or life, this is a book for you.

— Andre Gregory, theater director, writer, and star of My Dinner With Andre

The daughter of an unsparing critic, Priscilla Gilman has written a book her father would have deeply admired: a tender, unflinching memoir that is also a searching reflection on the relationship between criticism and love. The father she lost is vividly captured in this moving, gracefully written, bracingly honest book.
— Eyal Press, author of Dirty Work
W. W. Norton & Company, 9780393651324, 304pp.
Publication Date: February 7, 2023
About the Author
Priscilla Gilman is the author of the memoir The Anti-Romantic Child and a former professor of English literature at Yale University and Vassar College. Her writing has appeared in the New York Times, O, the Oprah Magazine, and elsewhere. She lives in New York City.