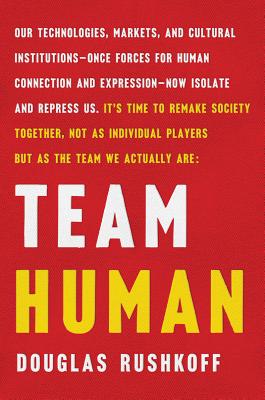 Team Human
Hardcover

* Individual store prices may vary.
Other Editions of This Title:
Digital Audiobook (1/21/2019)
Paperback (1/12/2021)
Description
Porchlight's Management and Workplace Culture Book of The Year



"A provocative, exciting, and important rallying cry to reassert our human spirit of community and teamwork." —Walter Isaacson
Team Human is a manifesto—a fiery distillation of preeminent digital theorist Douglas Rushkoff's most urgent thoughts on civilization and human nature. In one hundred lean and incisive statements, he argues that we are essentially social creatures, and that we achieve our greatest aspirations when we work together—not as individuals. Yet today society is threatened by a vast antihuman infrastructure that undermines our ability to connect. Money, once a means of exchange, is now a means of exploitation; education, conceived as way to elevate the working class, has become another assembly line; and the internet has only further divided us into increasingly atomized and radicalized groups.
Team Human delivers a call to arms. If we are to resist and survive these destructive forces, we must recognize that being human is a team sport. In Rushkoff's own words: "Being social may be the whole point." Harnessing wide-ranging research on human evolution, biology, and psychology, Rushkoff shows that when we work together we realize greater happiness, productivity, and peace. If we can find the others who understand this fundamental truth and reassert our humanity—together—we can make the world a better place to be human.
Praise For Team Human…
[A] thoroughly fascinating exploration of the
long interplay between power and the technologies of communication…. Rushkoff's
knowledge of digital technology shines … This is an important book that readers
are going to want to share with others. 
— Adam Frank - NPR

Team Human serves as a reminder that we do not have to surrender ourselves to technology. … Joining Team Human means prioritizing the social, transcending a digital inclination and connecting as humans.

— Washington Post

[Rushkoff] paints our current predicament with infectious élan and energy.
— Wall Street Journal

Original and uplifting. Just the book America needs right now. In his unique and engaging style, Rushkoff reminds us of our human essence: we are social creatures, and if we trust this truth about ourselves we can accomplish the seemingly impossible.
— Frances Moore Lappé, author of Diet for a Small Planet and Daring Democracy

Rushkoff is the gold standard. He always knows what tech is up to—and he's usually prophetic. Now he's here to tell us how our Silicon masters are attempting to pit us against one another for their own gain. Go Team Human.
— Walter Kirn, author of Blood Will Out and Up in the Air

A vivid thinker, Rushkoff is an insightful and acerbic antidote to Facebook, cultural hegemony, and the corporatization of everything.
— Seth Godin, bestselling author of The Dip, Linchpin, and What to Do When It's Your Turn (and It's Always Your Turn)

Can the revolution start already? This book will help us. Thank God for Douglas Rushkoff.
— Parker Posey

Technology can be a force for good or amplify our self-destructive capacities. In Team Human, the always-brilliant Douglas Rushkoff reminds us that the tools we design design us in turn, and offers a vision to invert our tools and make them better.

— Jason Silva, host of National Geographic's Brain Games

An astonishing, paradigm-shifting must-read for all inhabitants of the twenty-first century. Precisely and cogently written. Rushkoff's best work so far.
— Grant Morrison

[A] catalyst for conversations on what it means to be human.
— Booklist

A searing critique…Visionary, original, and inspirational. If you're not already a member of Team Human, you will be once you've finished reading it.

— Jeremy Lent, author of The Patterning Instinct
W. W. Norton & Company, 9780393651690, 256pp.
Publication Date: January 22, 2019
About the Author
Douglas Rushkoff is professor of media theory and digital economics at Queens/CUNY. Named one of the world's ten most influential intellectuals by MIT, he hosts the Team Human podcast and has written many award-winning books. He lives in Hastings-on-Hudson, New York.