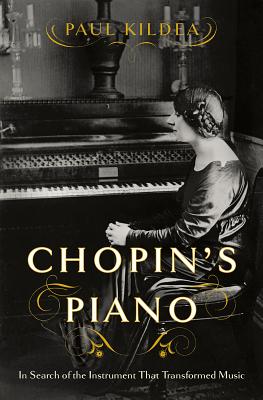 Chopin's Piano (Hardcover)
In Search of the Instrument that Transformed Music
W. W. Norton & Company, 9780393652222, 288pp.
Publication Date: August 14, 2018
Other Editions of This Title:
Paperback (2/4/2020)
Compact Disc (10/16/2018)
* Individual store prices may vary.
Description
The captivating story of Frédéric Chopin and the fate of both his Mallorquin piano and musical Romanticism from the early nineteenth to the mid-twentieth century.
In November 1838, Frédéric Chopin, George Sand, and her two children sailed to Majorca to escape the Parisian winter. They settled in an abandoned monastery at Valldemossa in the mountains above Palma where Chopin finished what would eventually be recognized as one of the great and revolutionary works of musical Romanticism: his twenty-four Preludes. There was scarcely a decent piano on the island (these were still early days in the evolution of the modern instrument), so Chopin worked on a small pianino made by a local craftsman, Juan Bauza, which remained in their monastic cell for seventy years after he and Sand had left.
Chopin's Piano traces the history of Chopin's twenty-four Preludes through the instruments on which they were played, the pianists who interpreted them, and the traditions they came to represent. Yet it begins and ends with the Majorcan pianino, which assumed an astonishing cultural potency during the Second World War as it became, for the Nazis, a symbol of the man and music they were determined to appropriate as their own.
After Chopin, the unexpected hero of Chopin's Piano is the great keyboard player Wanda Landowska, who rescued the pianino from Valldemossa in 1913, and who would later become one of the most influential artistic figures of the twentieth century. Paul Kildea shows how her story—a compelling account based for the first time on her private papers—resonates with Chopin's, simultaneously distilling part of the cultural and political history of mid-twentieth century Europe and the United States. After Landowska's flight to America from Paris, which the Germans would occupy only days later, her possessions—including her rare music manuscripts and beloved keyboards—were seized by the Nazis. Only some of these belongings survived the war; those that did were recovered by the Allied armies' Monuments Men and restituted to Landowska's house in France.
In scintillating prose, and with an eye for exquisite detail, Kildea beautifully interweaves these narratives, which comprise a journey through musical Romanticism—one that illuminates how art is transmitted, interpreted, and appropriated between generations.
About the Author
Paul Kildea, artistic director of Musica Viva Australia, is a conductor, writer, and former artistic director of Wigmore Hall in London. He is the author of Chopin's Piano: In Search of the Instrument That Transformed Music and Benjamin Britten: A Life in the Twentieth Century.
Praise For Chopin's Piano: In Search of the Instrument that Transformed Music…
An exceptionally fine book: erudite, digressive, urbane and deeply moving....Mr. Kildea gracefully traverses the decades, his pages rich with period detail....Outstanding.

A sweeping story....In graceful prose, Kildea explores developments in the history of piano-making, changes in the ways pianists have approached their craft, and, most luminously, the music of Chopin.
— Jonathan Rosenberg

This fascinating and beautifully written book will delight music lovers.
— Roger Kamien, author of Music: An Appreciation

Highly readable.
— Corinna da Fonseca-Wollheim

A wonderful book about music, musicians, cultural similarities and differences, the blood and gore of revolutionary times, and the compensations of high art. Kildea writes with elegance and wit.
— The Times (London)

Captivating and intriguing, Chopin's Piano will most certainly entertain both novice and hardcore music historians.


In tracing the history of the Bauza piano and the lives of those who played it, Kildea achieves a combination of performance and reception history that makes one listen more closely to the music.
— Anna Picard

Beguiling....A wonderful, melodic take on Chopin's genius.
— Publishers Weekly (starred review)

Engrossing....A deeply researched, gracefully told music history.

Will appeal not only to readers who enjoy Chopin but also those interested in piano history.