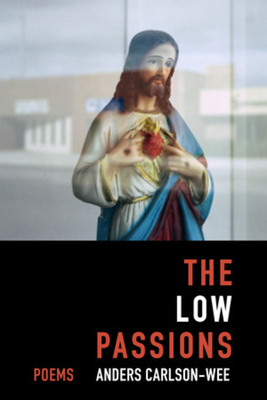 The Low Passions (Hardcover)
Poems
W. W. Norton & Company, 9780393652383, 80pp.
Publication Date: March 12, 2019
Other Editions of This Title:
Paperback (11/24/2020)
* Individual store prices may vary.
Description
In a knockout debut collection haunted by shame, violence, and the darkest of our human origins, Anders Carlson-Wee mines nourishment and holiness from our depths.
Explosive and incantatory, The Low Passions traces the fringes of the American experiment through the eyes of a young drifter. Pathologically frugal, reckless, and vulnerable, the narrator of these viscerally compelling poems hops freight trains, hitchhikes, dumpster dives, and sleeps in the homes of total strangers, scavenging forgotten and hardscrabble places for tangible forms of faith. A range of strong-willed characters takes shape, amplified by a chorus of monologues from the strangers who shelter him and the family he's left behind—each made manifest by the poet's devoted ear and sensitive eye.
About the Author
Anders Carlson-Wee''s work has appeared in the Paris Review, Buzzfeed, and many other publications. He lives in Minneapolis, Minnesota.
Praise For The Low Passions: Poems…
The Low Passions is an ode to America, the distances between place and people, the desire to quiet the self in order to better hear the world. Shaped through glimpses of a life in motion, these poems rattle along with energy and awe like the trains that fill these pages. If the work feels wild, there is also a feeling of tenderness as Anders Carlson-Wee reflects on childhood and brotherhood, what family means, and how a stranger can feel like family. The Low Passions reminds us to go out each day in wonder ready for the unknown to call to us.

— Dorianne Laux, author of Only as the Day Is Long

'Our fresh buzzcuts / lumpy with goose eggs. It's easy to forget / we were trying to kill each other.' So writes the remarkable new poet Anders Carlson-Wee in The Low Passions. I first encountered his poems at the Sewanee Writers' Conference three years ago. Ah, I thought, a poet of the contemporary Midwest who actually knows it. I was amazed by the precision and authenticity of this post–Nick Adams voice that is so utterly free of regional stereotype, false colors, and the standard rural and small-town themes and subject matter. Anders inhabited a world within a world of train yards, sibling (and other) violence, the dangers of the road, and a crazy cousin whose monologues sound awfully close to wisdom. Rather than repeating the cheap tunes of nostalgia, America would do better to read Carlson-Wee and a poetry that reassumes its ancient task of truth-telling.

— B. H. Fairchild, author of The Blue Buick

'If you don't live it,' Charlie Parker said of his own music, 'it won't come out of your horn.' Anders Carlson-Wee is a balladeer who has certainly lived his song. The Low Passions makes a Walden Pond of the railyard and cornucopias of every dumpster behind a strip mall. It paints portraits akin to those of James Agee, but to be captivated by them solely is to risk overlooking the urgency of experience in this debut collection. As terror drives the sublime and duende keeps one cold foot in the grave, these poems are as chilling as they are electrifying. Yet the perils of life off the grid are relieved by the light of inexplicable kindnesses discovered along the way. Through it all is the ever-loving American landscape, divine and brutal as Dillard's Tinker Creek.

— Gregory Pardlo, Pulitzer Prize–winning author of Digest