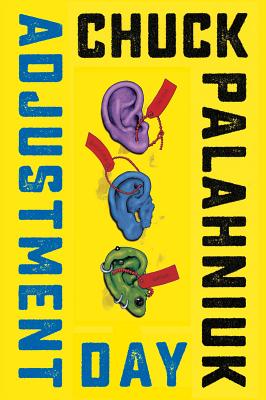 Adjustment Day
A Novel
Hardcover

* Individual store prices may vary.
Other Editions of This Title:
Paperback (5/7/2019)
Library Binding, Large Print (8/1/2018)
Description
The author of Fight Club takes America beyond our darkest dreams in this timely satire.
People pass the word only to those they trust most: Adjustment Day is coming. They've been reading a mysterious book and memorizing its directives. They are ready for the reckoning.
Adjustment Day, the author's first novel in four years, is an ingeniously comic work in which Chuck Palahniuk does what he does best: skewer the absurdities in our society. Smug, geriatric politicians bring the nation to the brink of a third world war in an effort to control the burgeoning population of young males; working-class men dream of burying the elites; and professors propound theories that offer students only the bleakest future.
Into this dyspeptic time a blue-black book is launched carrying such wisdom as:
Imagine there's no God. There is no Heaven or Hell. There is only your son and his son and his son and the world you leave for them.
The weak want you to forgo your destiny just as they've shirked theirs.
A smile is your best bulletproof vest.
When Adjustment Day arrives, it fearlessly makes real the logical conclusion of every separatist fantasy, alternative fact, and conspiracy theory lurking in the American psyche.
Praise For Adjustment Day: A Novel…
A quick, horrifying descent into madness and murder, gorgeous in its psychotic build-up and over-the-top execution.
— Jason Sheehan

Palahniuk toys with our cultural dividing lines—race, class, sexuality—and all the fears, myths, and conspiracies that come along with them. The result is a novel that straddles both the horrific and the absurd, kind of like present-day America.
— Peter Rugh

Adjustment Day feels, in many ways, like a novel made out of the times we're living in—one in which cult of personality (and a desire to belong to specific tribes) fractures the world people are familiar with, and creates something different—and worse—in its wake.

— Graeme McMillan

[Adjustment Day] is what you'd expect from the author best known for writing Fight Club: violent, kinetic, and deeply disturbing.

— Kerry Shaw

A send-up of the many absurdities in our society.
— Mackenzie Dawson

[Palahniuk] takes the United States' divided politics to their extreme conclusion and proves along the way that his gift for social satire has only sharpened with time.

Visionary and fearless . . . perhaps [Palahniuk's] darkest, most biting satire to date. . . . Razor-sharp insights and boundless imagination are matched only by his ability to make even the most stomach-churning scenes somehow vividly entertaining. . . . Equal parts Jonathan Swift and Tyler Durden.

A dystopian nightmare that takes all the fractures of our modern society and escalates them to a perverted climax.
W. W. Norton & Company, 9780393652598, 336pp.
Publication Date: May 1, 2018
About the Author
Chuck Palahniuk is the best-selling author of more than eighteen fictional works, including Fight Club, Invisible Monsters, Survivor, Choke, Lullaby, Diary, Haunted, Rant, Pygmy, Tell-All, Damned, Doomed, Beautiful You and The Invention of Sound. He lives in the Pacific Northwest.