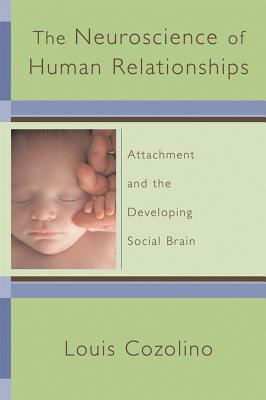 The Neuroscience of Human Relationships (Hardcover)
Attachment And the Developing Social Brain (Norton Series on Interpersonal Neurobiology)
W. W. Norton & Company, 9780393704549, 464pp.
Publication Date: November 17, 2006
* Individual store prices may vary.
Description
A visual exploration of how the brain develops throughout our lives.
Just as neurons communicate through mutual stimulation, brains strive to connect with one another. Louis Cozolino shows us how brains are highly social organisms. Balancing cogent explanation with instructive brain diagrams, he presents an atlas of sorts, illustrating how the architecture and development of brain systems from before birth through adulthood determine how we interact with others.
About the Author
Louis Cozolino, PhD, has been a writer, professor, and practicing psychologist in Los Angeles since 1986. As a professor at Pepperdine University, he is involved in the training of hundreds of Masters and Doctoral students. His research interests have included working with clients with schizophrenia and their families, the long term effects of childhood stress and abuse, and the application of evolutionary theory, social and cognitive neuroscience, and attachment theory to the practice of psychotherapy.
Praise For The Neuroscience of Human Relationships: Attachment And the Developing Social Brain (Norton Series on Interpersonal Neurobiology)…
This book is a pleasure to read. It is richly illustrated with clinical examples and synthesizes knowledge from the neurophysiological and psychological domains with psychological perspectives that will allow both seasoned clinicians and beginning therapists 'to integrate a brain-based understanding of human development, mental health, and mental illness' (p. 307) into their psychodynamic paradigms. The references are excellent. Best of all, the work reflects the author's ebullient spirit. . . . I recommend this book enthusiastically to all my colleagues. Over the past 6 months, I have found myself rereading chapters and enriching my own ability to integrate brain-mind areas that were previously isolated islands of thought.

The overall scope of the discussion is far-reaching and in many ways provocative, but the argument is persuasive and offers a broad overview of the range and complexity of issues confronting the emerging field of neuropsychoanalysis….[A] wealth of detailed information and a glimpse of what may become a vision of the future.

Cozolino adds...impressive contributions to the increasingly important field of neurobiology and attachment theory, and how these contribute to human development.

This master teacher makes neuroscience fascinating and accessible….This book is highly recommended to current and future clinicians.

An engaging introduction to the application of neuroscience to human behavior. I found it an absolute pleasure. . . . His deft interweaving of case examples with theory and physiology (illuminated by charts and drawings) makes the material easily digestible.

A very insightful exploration of the basic theories of interpersonal neurobiology. . . . This book makes a very valuable contribution to this much needed knowledge.

Reading this book has added a whole new dimension to my work and everyday life. Highly recommended.

Captivating and well written...a major contribution to the rapidly emerging field of neuro-psychoanalysis. Everyone practicing or interested in the emerging fields of mind and brain sciences should read it.
— Cristina Alberini, Ph.D., Departments of Neuroscience and Psychiatry, Mt. Sinai School of Medicine, New York

Lou Cozolino has created a comprehensive tour of the social brain, illuminating to both scientists and lay readers.
— Lise Elliot, Ph.D., Department of Neuroscience, The Chicago Medical School, and author of What's Going On In There? How the Brain and Mind Develop in the First Five Years of Life

This book provides an excellent and easily understood story about the connections of social child development and neuroscience. This is a "must" for anyone interested in human behavior.
— Lonnie Zeltzer, M.D., Director, Pediatric Pain Program, Professor of Pediatrics, Anesthesiology, Psychiatry and Biobehavioral Sciences, David Geffen School of Medicine at UCLA
or
Not Currently Available for Direct Purchase