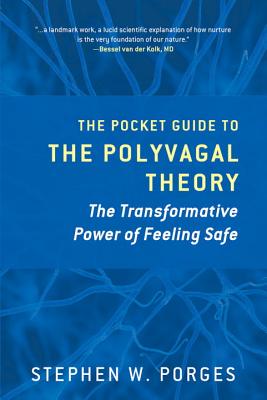 The Pocket Guide to the Polyvagal Theory (Paperback)
The Transformative Power of Feeling Safe (Norton Series on Interpersonal Neurobiology)
W. W. Norton & Company, 9780393707878, 288pp.
Publication Date: September 5, 2017
* Individual store prices may vary.
Description
Bridging the gap between research, science, and the therapy room.
When
The Polyvagal Theory
was published in 2011, it took the therapeutic world by storm, bringing Stephen Porges's insights about the autonomic nervous system to a clinical audience interested in understanding trauma, anxiety, depression and other mental health issues. The book made accessible to clinicians and other professionals a polyvagal perspective that provided new concepts and insights for understanding human behavior. The perspective placed an emphasis on the important link between psychological experiences and physical manifestations in the body. That book was brilliant but also quite challenging to read for some.
Since publication of that book, Stephen Porges has been urged to make these ideas more accessible and
The Pocket Guide to the Polyvagal Theory
is the result. Constructs and concepts embedded in polyvagal theory are explained conversationally in
The Pocket Guide
and there is an introductory chapter which discusses the science and the scientific culture in which polyvagal theory was originally developed. Publication of this work enables Stephen Porges to expand the meaning and clinical relevance of this groundbreaking theory.
About the Author
Stephen W. Porges, PhD, is Distinguished University Scientist at Indiana University, where he directs the Trauma Research Center within the Kinsey Institute. He holds the position of Professor of Psychiatry at the University of North Carolina and Professor Emeritus at the University of Illinois at Chicago and the University of Maryland. He served as president of both the Society for Psychophysiological Research and the Federation of Associations in Behavioral & Brain Sciences and is a former recipient of a National Institute of Mental Health Research Scientist Development Award. He has published more than 250 peer-reviewed scientific papers across several disciplines including anaesthesiology, biomedical engineering, critical care medicine, ergonomics, exercise physiology, gerontology, neurology, neuroscience, obstetrics, pediatrics, psychiatry, psychology, psychometrics, space medicine, and substance abuse. In 1994 he proposed the Polyvagal Theory, a theory that links the evolution of the mammalian autonomic nervous system to social behavior and emphasizes the importance of physiological state in the expression of behavioral problems and psychiatric disorders. The theory is leading to innovative treatments based on insights into the mechanisms mediating symptoms observed in several behavioral, psychiatric, and physical disorders. In 2018, Dr. Porges received the Pioneer Award from the United States Association for Body Psychotherapy.
Praise For The Pocket Guide to the Polyvagal Theory: The Transformative Power of Feeling Safe (Norton Series on Interpersonal Neurobiology)…
For an introduction to the theory and to Stephen Porges. . . I encourage you to read this book. [A] remarkable book.

Stephen Porges PhD has not only made one of the most profound and illuminating contributions to our understanding of nervous system in the last 50 years—he's made one of the most useful ones. Anyone who works with people, or who seeks to heal others, can benefit from his insights. Porges has helped cracked the facial code, and deepened our understanding as to the relationships between our nervous system, our facial expressions and bodily sensations. There has been brilliant work on the relationship between facial expressions and the emotions by Darwin and Ekman. Porges extends these discoveries inward, relating them to the nervous system. What is so special about his contribution, is that it is of immediate clinical import. His principles and discoveries guide us as to how, and when, to intervene in some of the most challenging clinical conditions, and opens up new kinds of treatment possibilities. For decades he's written as a scientist for scientists. Now, in this clear, accessible book, which is an ideal introduction to his ideas, we see what it is like to be in conversation with this brilliant man. This is ideal for clinicians of any kind, but also for anyone who wants to better understand their own nervous system, and that of those they care about. 
— Norman Doidge, MD, author, The Brain That Changes Itself, and The Brain's Way of Healing

The Pocket Guide to the Polyvagal Theory offers clinicians in-depth practical insights of Stephen Porges' important Polyvagal framework that illuminate the nature of how our lives are shaped by the intricate structures of the brain in interaction with the social world surrounding us. In this helpful volume are words of wisdom from a caring and brilliant scientist who brings to our work powerful new applications based on careful research and conceptualizations that can transform how we carry out the practice of psychotherapy with a wide range of individuals. 

— Daniel J. Siegel, MD, Executive Director, Mindsight Institute, author of: Brainstorm, Mindsight, and Mind

The Pocket Guide to the Polyvagal Theory is a landmark work, a lucid scientific explanation of how nurture is the very foundation of our nature. Porges explains how safety and reciprocity are biologically encoded, defining the quality of our lives. Basic safety is essential not only for having satisfying relationships, but also for optimally activating the higher brain structures responsible for creativity and generativity. By the defining the core features of "safety" as consisting of internal visceral sensitivities that define how we deal with threat and approach our surroundings, Porges invites us to revise our focus on safety from fences, metal detectors, and surveillance monitoring, to using the fundamental wiring of our brains, including our voices and our faces, to organize our lives, our families and our institutions. This book shows how most psychiatric problems are expressed in failures of attunement and reciprocity, and, by explaining the biological foundations of reciprocity, provides a guide to innovative methods to gain a sense of safety, mutuality and belonging.

— Bessel van der Kolk, MD, Medical Director Trauma Center at JRI, Professor of Psychiatry, Boston University School of Medicine, author of NYT bestseller The Body Keeps the Score

In The Pocket Guide to the Polyvagal Theory, Stephen Porges succeeds, as few researchers do, in the art of deconstructing dense scientific concepts to render them wonderfully accessible to clients, clinicians, and the lay person alike. As the subtleties of the Polyvagal Theory are brought to life through the friendly voice of an innovative genius, a new understanding about the influence of the autonomic nervous system on human behavior emerges, along with neurobiological explanations for a variety of difficulties. You will find that many of the perplexing issues that bring clients to therapy suddenly make biological sense, as well as discover the seeds of bottom-up roadmaps for healing them. Read this book, and be inspired by a revolutionary perspective on the human condition that will have a far-reaching positive impact on your life, your relationships, and your clinical practice.

— Pat Ogden Ph.D., Founder/Educational Director, Sensorimotor Psychotherapy Institute, Boulder, Colorado USA

The Polyvagal Theory is among the most important and comprehensive maps informing clinical trauma therapy. Students of traumatology will be greatly enriched by this recent work. What makes this deep exploration even more engaging are the lively dialogues in which Porges's great body of wisdom becomes even more accessible to all those interested in the search for safety, in the face of threat and trauma.
— Peter A Levine, PhD, author of Trauma and Memory, Brain and Body in the Search for the Living Past, and In an Unspoken Voice