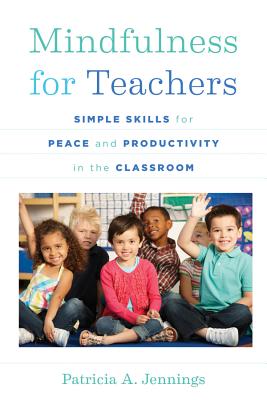 Mindfulness for Teachers
Simple Skills for Peace and Productivity in the Classroom (The Norton Series on the Social Neuroscience of Education)
Paperback

* Individual store prices may vary.
Other Editions of This Title:
Paperback, Vietnamese (6/15/2019)
Description
Mindful awareness practices to help teachers recognize and regulate emotional reactivity in their classrooms.
Teaching is one of the most rewarding professions, but also one of the most demanding. This book offers simple, ready-to-use, and evidence-proven mindfulness techniques to help educators manage the stresses of the classroom, cultivate an exceptional learning environment, and revitalize both their teaching and their students' knowledge acquisition. Drawing on basic and applied research in the fields of neuroscience, psychology, and education, as well as the author's extensive experience as a mindfulness practitioner, teacher, and scientist, it includes exercises in mindfulness, emotional awareness, movement, listening, and more, all with real-time classroom applications.
Praise For Mindfulness for Teachers: Simple Skills for Peace and Productivity in the Classroom (The Norton Series on the Social Neuroscience of Education)…
Jennings provides a powerful and compelling case for teachers to practice mindful consciousness as it helps teachers analyze their thoughts and emotions before they become actions. The intricate definitions, impactful activities, and clear process for practicing mindfulness are both practical and accessible for any teacher. In fact, it is difficult to read her book without wanting to practice mindfulness.

For teachers and school personnel wishing to incorporate mindfulness into their lives, this book provides an invaluable resource. . . . Drawing upon her own wealth of experience as a mindfulness practitioner, teacher, and scientist, Jennings has accomplished her own stated intentions in this book by providing a timely and inspiring illustration of how mindfulness practice can be used to reduce teacher stress and suffering, and also how mindfulness has the potential to enhance and transform teacher's ability to educate today's youth.

[Jennings'] careful research on how teachers can employ mindfulness in the classroom is vital to the field. This book . . . can help teachers continually find the spirit of joy and engagement that brought them to teaching in the first place.

Patricia Jennings has topflight expertise in mindful education, and shares it with other teachers in a reader-friendly, useful way. Mindfulness for Teachers offers a suite of practical tools for building a more positive, compassionate classroom—one where teachers do their best and students can shine. This book deserves your full, mindful focus.

— Daniel Goleman, PhD, author of Emotional Intelligence

Mindfulness for Teachers draws on research, theory, and Patricia Jennings' extensive experience in education to present a very readable set of guidelines for creating a mindful and caring classroom. This impressive book should be required reading for teachers during their training. The ideas here will help any teacher develop a greater awareness and find greater joy and personal fulfillment in teaching.

— Mark T. Greenberg, PhD, Bennett Chair of Prevention Research, Pennsylvania State University

This book is a wonderful resource for teachers. Patricia Jennings has a real understanding of the challenges teachers face. Utilizing her strong foundation in mindfulness practices, she provides effective exercises and a wealth of information to support educators both inside and outside the classroom.
— Sharon Salzberg, Co-Founder of the Insight Meditation Society and Author of Real Happiness

This book provides strategies for all educators to use their emotional energy to their advantage. Bringing the myriad of ways that mindfulness is a timeless component of pedagogy to readers' attention, Jennings demonstrates how attuning to their own emotions will allow educators to fully engage as creative professionals with individual students. Mindfulness for Teachers emphasizes that to truly connect with the hearts and minds of our students, teachers must first sustain their own presence and wellness.
— Linda Rosenbury, Middle School Principal, New York City Public Schools

Jennings blends years of personal practice with classroom experience and research to create a pertinent resource for any teacher wishing to begin or enrich a cultivation of mindfulness. An understanding of the human brain, and its' reactions to stress, are provided as a pathway to guide teachers to build a self-care practice that acts as a model for students and a foundation for classroom wellness. Through refined attention to and mindfulness of daily habits and actions, Jennings illustrates how repeated forms of inquiry can operate as pedagogical techniques for learning.
— Jennifer Dauphinais, Magnet Resource Teacher, Quinnipiac STEM Magnet School, New Haven, CT

Essential information on a subtle topic, presented with clarity and simplicity, and beautifully written, Patricia Jennings 'gets it' about being a teacher. She has been there, and now she is back with a great story about the enormous value of mindfulness, and she has the evidence to back it up. Teachers, take one of your most valuable possessions—your time—to read this thoughtful and thorough book!
— Robert L. Selman, PhD, Roy E. Larsen Professor of Human Development and Education and Professor of Psychology in Psychiatry, Harvard University
W. W. Norton & Company, 9780393708073, 288pp.
Publication Date: February 16, 2015
About the Author
Patricia A. (Tish) Jennings, a professor at the Curry School of Education at University of Virginia, lives in Charlottesville. Her first book, Mindfulness for Teachers, was featured on NPR's Morning Edition, and her second book, The Trauma-Sensitive Classroom, was selected as a "Favorite Book for Educators in 2018" by UC Berkeley's Greater Good Science Center. Editor of Norton's Social and Emotional Learning Solutions Series, she is one of the "Ten Mindfulness Researchers You Should Know," according to Mindful magazine, and was recently awarded the Cathy Kerr Award for Courageous and Compassionate Science by the Mind & Life Institute, started by the 14th Dalai Lama in 1987. 


Daniel J. Siegel, MD, is clinical professor of psychiatry at the University of California–Los Angeles School of Medicine, and executive director of the Mindsight Institute. He is the founding editor of Norton's IPNB Series and best-selling author of Mind, The Mindful Therapist, and The Mindful Brain.