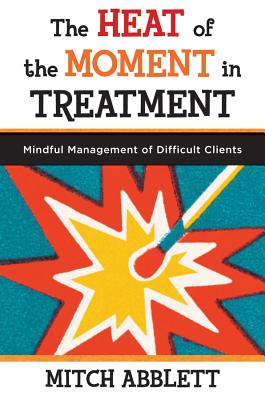 The Heat of the Moment in Treatment (Paperback)
Mindful Management of Difficult Clients (Norton Professional Books)
W. W. Norton & Company, 9780393708318, 331pp.
Publication Date: May 27, 2013
* Individual store prices may vary.
Description
The Heat of the Moment in Treatment is for clinicians looking to explore, reassess, and transform the way they treat their most difficult clients. With carefully designed mindfulness-based exercises, self-assessments, and skill development activities, this workbook helps clinicians understand their own role in therapeutic interactions, as well as how to proactively respond to tough client behavior in ways that improve the prospects for successful treatment.

Author Mitch Abblett acts as a sensitive, expert guide, laying out a roadmap for the toughest of clinical encounters that almost all therapists face, whether seasoned or just starting out. His use of relatable metaphors, rhetorical questions, and stories from his own experience allows readers to reflect upon their own psychotherapy practice without feeling like there is one right way to deal with challenging clients.

The Heat of the Moment in Treatment will help clinicians move beyond assumptions and reactive impulses to their "difficult" clients. Readers will gain proactive clinical leadership skills, while learning how to expand mindful awareness of self and others to access compassion and empathy for any client--even when the "heat" of moment-to-moment interaction in session is hard to tolerate.