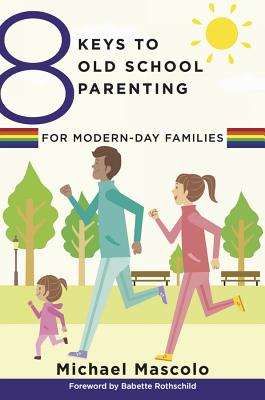 8 Keys to Old School Parenting for Modern-Day Families (8 Keys to Mental Health)
Paperback

* Individual store prices may vary.
Other Editions of This Title:
Compact Disc (9/8/2015)
MP3 CD (5/1/2015)
Description
Raising secure and confident kids using best parenting practices from the past.
Does it ever seem to you like kids these days are in control of their parents?
Having a strong sense of yourself as a parent is key to raising a resilient, independent, thoughtful, and solution-focused child. But over the last several generations, parents have been immersed in the well-intentioned idea that parenting should be child-centered rather than adult-centered. Many parents have begun to follow their children's lead rather than insist that children adapt to parental prerogatives. Parental authority has come to be seen as a bad thing.
The 8 keys presented in this book focus on valuing your own authority as a parent; cultivating your child's character; applying discipline instead of punishment; strategies to motivate compliance; fostering emotional development; problem-solving; conflict management; and effective communication. They will help parents raise self-directed children who are active learners, feel good about themselves, take initiative, and have a strong moral compass.
Praise For 8 Keys to Old School Parenting for Modern-Day Families (8 Keys to Mental Health)…
As an academic psychologist, a parent, and a consumer of trade press books on parenting, I found Mascolo's text timely and insightful, and I am happy to have it on my shelf…. [T]he author has distilled highly regarded contemporary parenting theory and research and tied them to clear examples that most any reader could follow.
— PsycCRITIQUES

Each key . . . comes with plenty of useful examples, charts, sample dialogues, and research-based explanations. And each drives home the point that children will learn best from their own collective experiences. . . . As I read Mascolo, I almost felt like cheering. . . . I would recommend this book for both parents and teachers . . . . [I]n my opinion, you can't go wrong with a book that encourages parents to take an active, authoritative, and nurturing role as they guide their kids through the trials and joys of growing up.
— PsychCentral

From strategies to motivate compliance to encouraging problem-solving skills, handling conflict, and communicating better, this book helps parents raise strong children who are emotionally secure and engaged in their environments, and is a pick for parents who want to blend modern perspectives with old-fashioned morality and ethical standards. Both are key discussions that should be in any parenting library.
— Midwest Book Review

Parents seeking good expert advice about how best to raise their children will benefit from this invaluable and singularly creative resource. In 8 Keys to Old-School Parenting for Modern-Day Families, Michael Mascolo uses his deep knowledge of contemporary scientific theory and research to provide clear and wise recommendations that will enhance parenting and positively impact the lives of children. Accessibly written, the pathways the author presents for effective parenting will give parents the intellectual and behavioral tools they need to optimize their children's development.

— Richard M. Lerner, PhD, Bergstrom Chair in Applied Developmental Science, Director, Institute for Applied Research in Youth Development, Tufts University

An enlightening, engaging, and informative guide to parenting. This book offers a thorough examination of the literature and insightful illustrations to support the significance of parental attitude and action on the dynamic nature of the parent-child relationship, providing testimony to the longevity and success of parenting that combines nurturance and high expectations. A must-read for parents, grandparents, child psychologists, educators, and child-care providers.
— Dante Cicchetti, PhD, McKnight Presidential Chair and William Harris Professor, Institute of Child Development and Department of Psychiatry, University of Minnesota

8 Keys to Old School Parenting for Modern-Day Families may be the most valuable parenting book of the 21st Century. Wise and balanced, it offers parents realistic ways to cultivate the character strengths that children will need for success and good citizenship in today's world. The book is bold in taking on cultural misdirections. A gift to contemporary parents everywhere.

— William Damon, Professor and Director, Stanford Center on Adolescence, author of The Path to Purpose: How Young People Find Their Calling in Life
W. W. Norton & Company, 9780393709360, 288pp.
Publication Date: May 25, 2015
About the Author
Michael Mascolo, PhD,
, is a professor in the Department of Psychology at Merrimack College in North Andover, Massachusetts. He publishes a popular parenting advice magazine and lives in Salem, Massachusetts.
Babette Rothschild, MSW, internationally recognized PTSD specialist, has authored seven books and edits the 8 Keys to Mental Health series for W. W. Norton. Following nine exciting years studying and working in Copenhagen, Denmark, she now resides in her native Los Angeles, California.
or
Not Currently Available for Direct Purchase